Sviaz Expocomm: Neoway's first show is remarkable
On 23rd to 26th, April, Sviaz Expocomm 2019 is held in Moscow. Sviaz Expocomm is the largest and most professional trade show of IT and telecommunication solutions and products in Russia and Eastern Europe. It involves ICT, navigation systems, mobile devices and payment, smart city, and IoT applications, and attracts 390 exhibitors from 19 countries to showcase the cutting-edge products and technologies on ICT market and products and services that are developed for applications in Russia and surrounding areas. The Chinese exhibition group consists of 121 well-known enterprises and has been the largest oversea group.
Russian government is propelling the transformation of networks. Focusing on that demand, Neoway Technology, who participates in the event for the first time, exhibits its flagship products that are well-known by the high stability and reliability.
According to its employee at the exhibition, Neoway Technology provides a 4G cellular module named N720. It was the first 4G cellular module that was shipped in mass in China and occupies the largest share of Chinese power market and China Tower market. With various network protocols, N720 is quite suitable for the 4G reform of communications industry in Russia. Neoway shows the featured applications of its modules such as handheld POS at its booth, and these exhibited samples attract many audiences since they can gain a knowledge of the work principle and Neoway's strengthens directly and quickly. Other representative products, including the WCDMA modules WM620 and N51 and the GPRS module N15, also are inquired about frequently. In addition, the NB-IoT modules (N20, N23, and N25) and solutions exhibited have been widely applied in water and gas metering, smart lock, environmental monitoring, smart city (lamp management, manhole cover management, smoke detection), etc.
"On the first day, many purchasers came to communicate with us about their demands and our products. Some of them even have showed us their intention to purchase out products and expect further cooperation," Neoway's onsite worker said, "Some of our local agents also show our products in their booths." To the best of my knowledge, there are quite a number of audiences that consult about Neoway's products in our agents' booths. The most attractive products are N21, the NB-IoT module, and N11, the 2G module. Thus it can be seen that the Russian market has a variety of demands for IoT infrastructure. Our modules are featured with low power consumption, small size, and good RF performance. They can operate steadily in a wide temperature range of -40℃ to 85℃ and are optimal options for applications in Russia where the climate is complexed and the diurnal-temperature variations are large.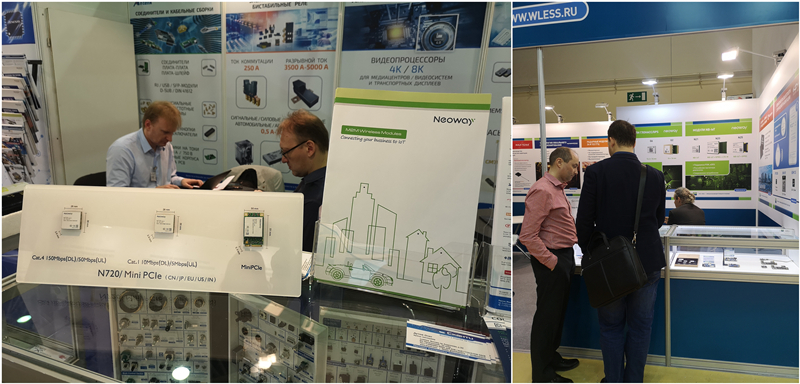 SVIAZ ICT will help Neoway improve its impact in Russia and surrounding areas and attract a lot of publicity and reputation to set a basis for Neoway's global distribution and penetration in key markets.
Basing in the Far East and Look into the Globe
As the one-belt
of Russia for 8 years. Russia laps behind West Europe and the US in the development of industrial networks and IoT. To fill the gap, Russian government made plans to develop IoT. However, western enterprises withdrew investments due to the economic sanction policies of EU and the US, resulting in a gap in Russian communications market. In 2018, Russian economy became steady and market demands and investment demands were tremendous. Especially, the demand for communications hardware up surged in IT market.
At the moment, Neoway Technology will be based on Russian market and enhance its strengths in the Far East, Europe, and North America. With more than 10-year experience and technology accumulation, Neoway brings its high-quality and high-performance products to the global customers and gain acknowledgment. As the era of IoE is coming, Neoway Technology will continue to innovate its connected communications products and serve more global customers.