Neoway Launches Cat.1 Product, Smallest in Current Industry
A hundred years since the birth of two-wheeled vehicles, vehicles for the first time were associated with IoT due to the large-scale development of shared mobility from the initial fixed-point borrowing/returning to the current borrowing/returning at any time. Thanks to the rapid development of many core technologies such as wireless communication, cloud computing, and positioning, a solid foundation is built for the vigorous development of IoT, making the shared mobility industry more diversified and convenient.
On September 8th, the "Ride-sharing Grows for IoT – Cat.1 New Product Launch and Ecological Cooperation Seminar" hosted by Neoway Technology was successfully held. Representatives of well-known upstream and downstream companies, such as TBIT Technology, Unigroup Spreadtrum & RDA, Guangdong Unicom, Alibaba Cloud Intelligent IoT, Allystar, and Aitos, were invited to the seminar and provided professional analysis and sharing based on their technical products and market applications in shared mobility industry.
Shang Jiangfeng, Manager of the Functional Module BU of Neoway Technology, said that Neoway Technology first launched the N58 supporting the Cat.1 wireless communication in October 2019. Neoway has started early in R&D, marketing, and application of Cat.1 modules, andenen has been taking the lead in the industry in terms of commercial use. After the outstanding market performance in the second half of 2019 and the first half of 2020, Neoway continued to push the limits in the new product planning and R&D of Cat.1 products and launched N716, which features the smallest size in the current industry. N716 further enriches the Cat.1 products and gives customers more choices.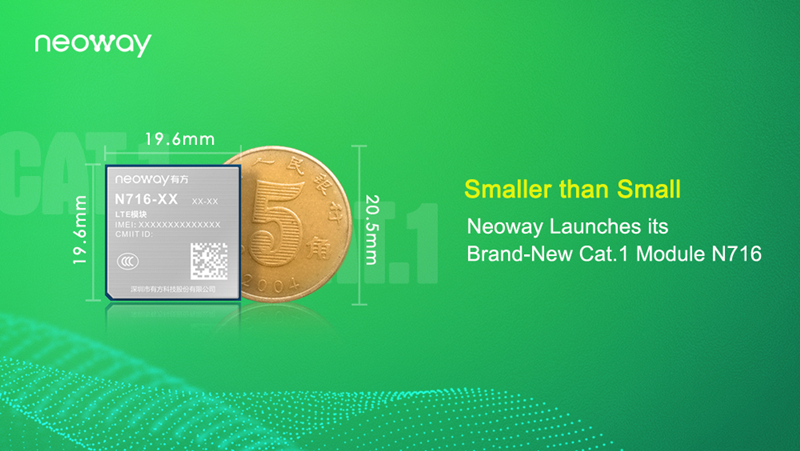 N716 is equipped with Unigroup Spreadtrum & RDA 8910DM, the quality and supply of which are guaranteed.

The size of N716 product is only 19.6 mm x 19.6 mm, which is smaller than a 5-dime coin in diameter and has a high degree of integration.

With OpenCPU, customer development is more efficient and convenient, and the solution design costs are further reduced

N716 supports Bluetooth, near-field communication (NFC), and Wi-Fi positioning. It has the embedded high-precision positioning algorithm, and provides a variety of options to meet different needs.
With the gradual withdrawal of the 2G and 3G network, the medium-speed, low-latency, and wide-coverage features of the Cat.1 module, combined with high-precision positioning, can provide more powerful technical support for the upgrade of Shared Mobility 2.0.The ultra-compact N716 is suitable for shared electric vehicles, shared bicycles, shared scooters, electronic locks, and other terminals. It can also be applied to various mobile tracking scenarios, such as wearable devices, student cards, pet location trackers, and asset trackers; public network intercom and in-vehicle terminals that require high-quality voice functions; financial payment scenarios, such as electronic signature POS terminals, code scanning POS terminals, cloud speakers, and payment boxes; industrial monitoring scenarios that require stable and reliable communication quality.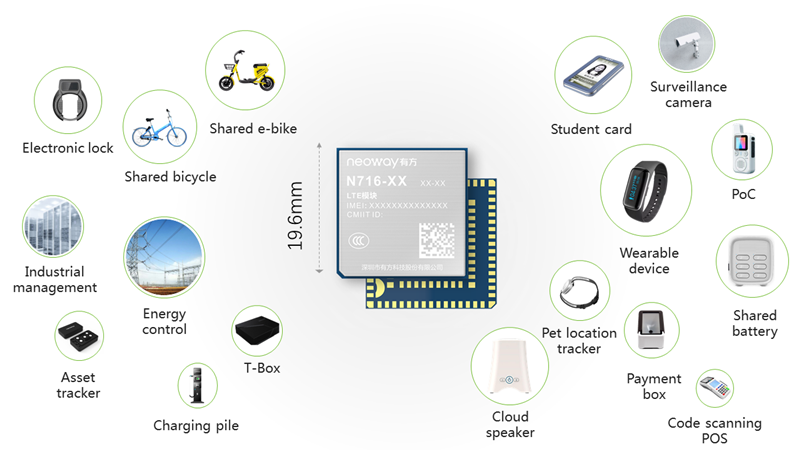 On the seminar, TBIT Technology, Neoway Technology, and Unigroup Spreadtrum & RDA jointly signed a strategic cooperation agreement. The three parties will make full use of their technical advantages in their respective fields, cooperate closely, and empower each other to create the most advanced IoT products and industry solutions in the field of electric vehicles, to promote the upgrade of Shared Mobility 2.0, and enable people to travel in a more environmentally friendly, efficient and convenient manner.
On the seminar, Wang Wei, Product General Manager of TBIT Technology, introduced the ecological development of shared two-wheelers and the latest Cat.1 solutions.
Qiu Bin, IIoT Marketing Director of Unigroup Spreadtrum & RDA, shared his views on the development trend of Cat.1, as well as the Cat.1 product planning, advantages, and latest achievements in market development of Unigroup Spreadtrum & RDA.
Lin Zhipeng, Manager of Guangdong Unicom IoT BU, introduced the Guangdong Unicom's LTE Cat.1 network and its policies and measures for promoting Cat.1-related businesses, and elaborated on how Guangdong Unicom will empower the development and upgrading of the IoT industry. .
Behind the amazing development speed of shared mobility is the great challenge for cloud computing and AI technology. Tang Ying, senior product expert of Alibaba Cloud Intelligent IoT, introduced how Alibaba Cloud provides all-round cloud-to-end services for shared mobility.
Cloud computing and high-precision positioning are essential for shared mobility. Wu Peng, Industry Application Director of Allystar, analyzed the applications and value of Beidou high-precision positioning in shared mobility.
As the IoT is more and more closely connected with people's lives, and the demand for data security is ever increasing, the blockchain technology is gradually applied to the IoT to ensure the security and credibility of upstream and downstream data. Lin Yao, CEO of Aitos, shared how blockchain ensures data security for the IoT and helps thousands of industries to implement reliable and reliable intelligent interconnection.
Today, with penetration of the IoT into people's production and living activities and with the diversification and fragmentation of application scenarios, product iteration continues to accelerate, and product development raises higher requirements for intelligent and human-friendly products. Backed by over 10 years of technology accumulation and application experience, Neoway will continue to enrich products, such as 4G (Cat.1), 5G, and NB-IoT series products, and provide stable and reliable access and communication products and services for the IIoT, contributing to the IoE era.