How do enterprises track their vehicles and goods in logistics transportation?
About a decade ago, logistics enterprises only relied on experience to estimate the approximate location of vehicles and goods, promising customers a rough arrival time. With the advent of wireless walkie-talkies, they still knew the status of their vehicles and goods when their vehicles left the enterprise within one or two hours. But the way had major limitations.
Afterward, with the widespread use of fax machines, drivers can send the information of goods stowage back to the company accurately and timely. Now, drivers in both passenger and freight fleets have mobile phones, which allow them to communicate with each other and the company whenever they are on the move. Capable logistics companies even have satellite positioning systems on their vehicles.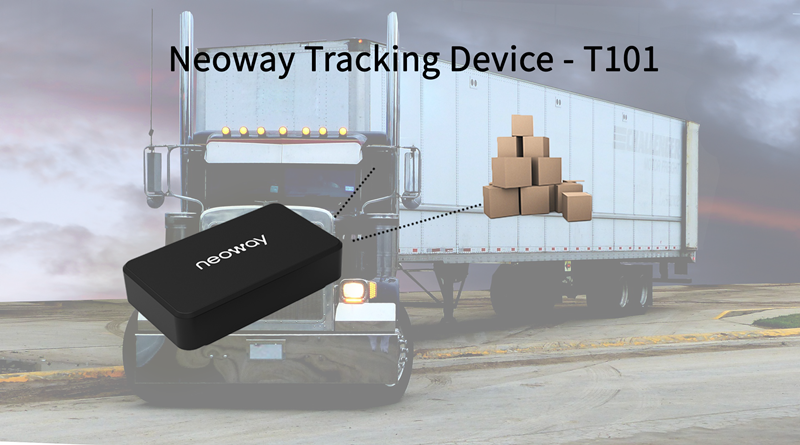 The development of wireless communication technology makes the services of the logistics industry more and more accurate, creating more and more value for users. For example, logistics enterprises can grasp accurate location information, clarify the status of goods/vehicles, schedule vehicles reasonably, reduce half-load/no-load, and improve efficiency. Production enterprises arrange the warehousing sequence to improve the utilization rate of warehouse space according to logistics information. Sales enterprises can distribute the goods to different places for retail according to the batch, quantity, article number, and other goods information to shorten the shelf time of the goods.
Neoway T101, a tracking device, can be used for goods tracking, vehicle tracking, warehouse management, and other logistics links.
Built-in a large capacity battery with super long standby for 4 years.

Support 2G/NB-IoT network, suitable for moving scenarios (tracking) and fixed scenarios (warehousing).

Support high precision positioning with GNSS (GPS, AGPS, and LBS).

Support the collection of goods rolling information.

Support cold chain logistics with light sensor and temperature sensor.

Support IP65 waterproof.
T101 is suitable for a variety of use scenarios. It can reduce labor costs and improve tracking efficiency of goods and vehicles for auto finance management, logistics industry, fleet management, large-scale warehousing, and other industries.
Contact us: sales@neoway.com