Neoway N58 Becomes the Only Cat.1 Module Commercially Available for 2nd Generation JETOUR Released by Chery in the Automotive Pre-installation Market
On September 26, 2020, the 16th Beijing International Automotive Exhibition officially opened. As an iconic enterprise in the China's automotive industry, Chery unveiled over 10 vehicle models. The newly released Chery's 2nd generation JETOUR is equipped with Neoway N58, a Cat.1 cellular module that helps JETOUR outperform other commercial models in terms of networking and intelligence experience.
Neoway N58 is also the only Cat.1 cellular module that has been successfully put into commercial use in the automotive pre-installation market. It will strongly promote the popularization and large-scale applications of Cat.1 cellular modules to achieve automotive intelligence and networking.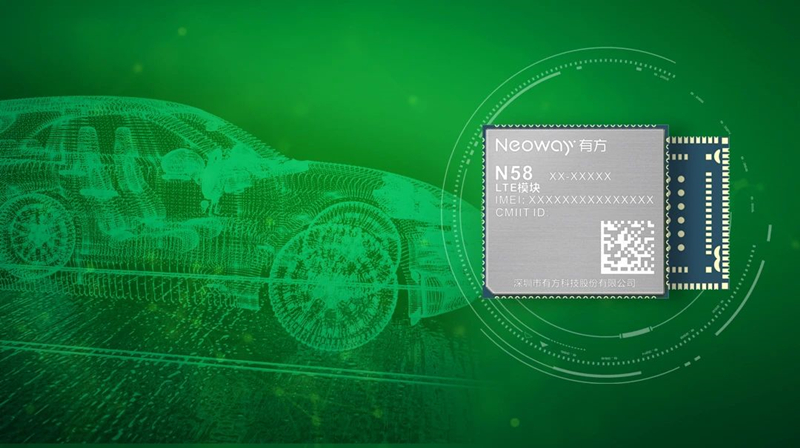 Under the trend of automotive intelligence, networking, and sharing, the great value of stable and reliable wireless communication is self-evident. LTE Cat.1 supports a downlink rate up to 10 Mbps, which can meet most of the Internet of Vehicles (IoV) applications, such as remote vehicle diagnosis and query, vehicle control, security service, Internet applications, and remote upgrades. Cat.1, as a 4G basic-level network, can implement IoV functions at a lower cost while meeting the real-time and mobility requirements of communication, and further enhance the customer value of vehicles.
The T-box of Chery's second-generation JETOUR unveiled this time was jointly developed by China Mobile IoT Company Limited and Neoway Technology Co., Ltd. N58 was first launched by Neoway in 2019. As the industry's first Cat.1 bis module, N58 brings more value to related customers in the IoV field.
Cat.1 module N58 has obvious cost advantages over Cat.4 products, which can save more costs for customers and help enhance the market competitiveness of terminal products.

N58 is pin2pin compatible with Neoway Cat.4 module N720. Customers can upgrade their Cat.1 modules to Cat.4 modules, without changing the hardware.

N58 runs on LTE networks with the widest coverage in China and even the world, supports mainstream frequency bands in key regions, and provides customers with stable and reliable communications guarantee for global business expansion.
Neoway has always focused on the "interconnection" aspect of Internet of Things (IoT). Backed by its rich technological and industrial experience in the R&D of in-vehicle pre-installation wireless communication products, Neoway has launched a series of IoV products and solutions. Neoway can provide tier 1 manufacturers and car manufacturers with high-quality and cost-competitive products and services, helping customers accelerate the product development, reduce development costs, and optimize driving experience for users.
Wireless communication products of Neoway have been deployed on a variety of vehicle models supplied by many well-known car manufacturers, such as Dongfeng, NISSAN, and Audi, in addition to Chery. Neoway has accumulated rich experience in the automotive industry, and ranks among the top in terms of the installed volume of pre-installed in-vehicle communication modules in the Chinese market.
Neoway is still gaining momentum in the automotive industry. It will continue to contribute to the continuous development of connected and intelligent vehicles, and to improve human travel efficiency, driving experience, and low-carbon environmental protection.