Neoway N2610-US Passed PTCRB and AT&T Certifications, Accelerating its Commercial Launch
In diversified Internet of Vehicles (IoV) applications, such as Usage-Based Insurance (UBI), fleet management, and car rental, it is essential to learn the usage status of vehicles in real time, such as the vehicle condition, mileage, speed, fuel, and trajectory positions, and perform statistical analysis on real-time data to improve efficiency and reduce overall transportation and labor costs. However, traditional methods such as manual recording and active reporting are time and labor consuming, and data statistics is usually not timely accurate. Using On Board Diagnostics (OBD) terminals can significantly improve the efficiency and accuracy of vehicle information collection. It is currently one of the most efficient cost-effective IoT solutions in vehicle management.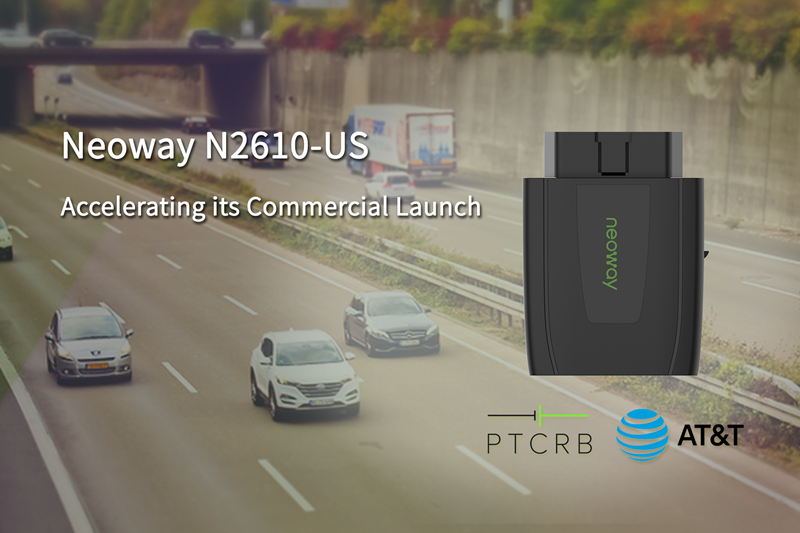 N2610 supplied by Neoway is a 4G smart OBD terminal. N2610 can transmit data in real time, and is hot-swappable and easy to use. It is suitable for many in-vehicle aftermarket applications such as fleet management, UBI, and car rental. Recently, N2610-US was awarded the PTCRB and AT&T certifications, paving the way for its application in Europe and America.
Supporting global bands and diversified protocols

Supporting Bluetooth and Wi-Fi hotspot

Applicable to mainstream vehicle models in the market

Built-in battery with broad temperature ranges from -20°C to 70°C

Built-in accelerometer and gravity sensor for driving behavior data

Abnormal plugging and pulling off alarms
Neoway has cooperated with top 5 global manufacturers in the United States, India and other regions, and shipped N2610s in bulk.
If you are interested in this product, you are welcome to send emails to sales@neoway.com.