ZTINFO Released Vehicle Positioning Terminals for Commercial Use, Empowered by Neoway's Two Generations of Cat.1 Modules
Guangzhou ZTINFO Technology Co., Ltd. (hereinafter referred to as ZTINFO) has recently launched several vehicle positioning terminals equipped with Neoway Cat.1 modules. These terminals provide users with real-time, fast, and efficient services, such as vehicle status information, location tracking, and anti-theft alarm, greatly improving the efficiency of vehicle status supervision, vehicle safety, and theft prevention.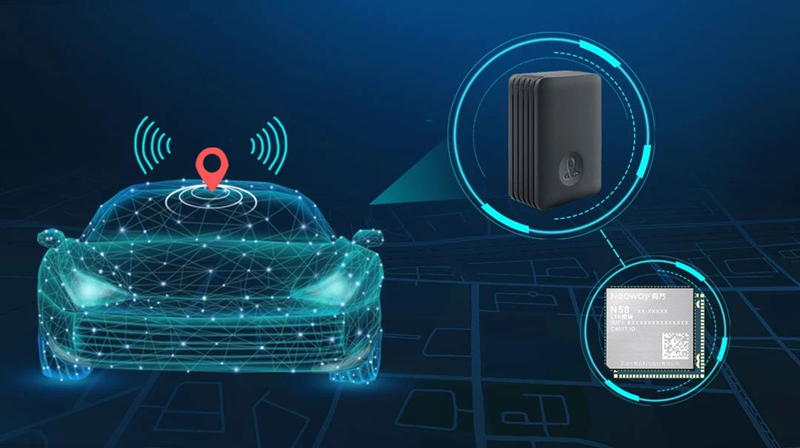 ZTINFO is a well-known high-tech enterprise dedicated to the R&D and production of positioning terminals. It specializes in BDS/GPS R&D, production, and system operations, and focuses on the design and manufacturing of data collection terminals. Its products are positioning terminals that support mainstream communication technologies. Based on Neoway's flagship Cat.1 product N58 and the new generation of ultra-compact Neoway Cat.1 module N716, ZTINFO have carried out comprehensive and in-depth cooperation with Neoway to jointly develop vehicle positioning terminals. These terminals can be widely used in electric vehicles, buses, Taxis, engineering vehicles, police vehicles, special-purpose vehicles, logistics vehicles, cold chain vehicles, and other vehicle models.
Based on its grasp of the development trend of 4G wireless communication technology and a deep understanding of the demand for industrial IoT access communication, Neoway has further enriched its 4G Cat.1 product series and recently launched a new generation of Cat.1 product N716, Cat.1 cellular module of the smallest size in the industry. N716 is suitable for shared electric vehicles, shared bicycles, shared scooters, electronic locks, and other scenarios. It can also can be applied to various mobile tracking scenarios, such as wearable devices, student cards, pet location trackers, and asset trackers. N716 can be used in public network intercom and in-vehicle terminal scenarios that require high-quality voice function. In addition, N716 can be used in financial payment scenarios, such as electronic signature POS terminals, code scanning POS terminals, cloud speakers, and payment boxes, and industrial monitoring scenarios that require stable and reliable communication quality.
The size of N716 is only 19.6 mm x 19.6 mm x 2.46 mm, which is smaller than the diameter of a 5-dime coin. It is the smallest Cat.1 cellular module in the industry. N716 is highly integrated and can save more space and volume for terminal products.

With OpenCPU, customer development is more efficient and convenient, and the solution design costs are further reduced.

N716 supports Bluetooth, near-field communication (NFC), and Wi-Fi positioning. It has the embedded high-precision positioning algorithms, providing a variety of options to meet various needs.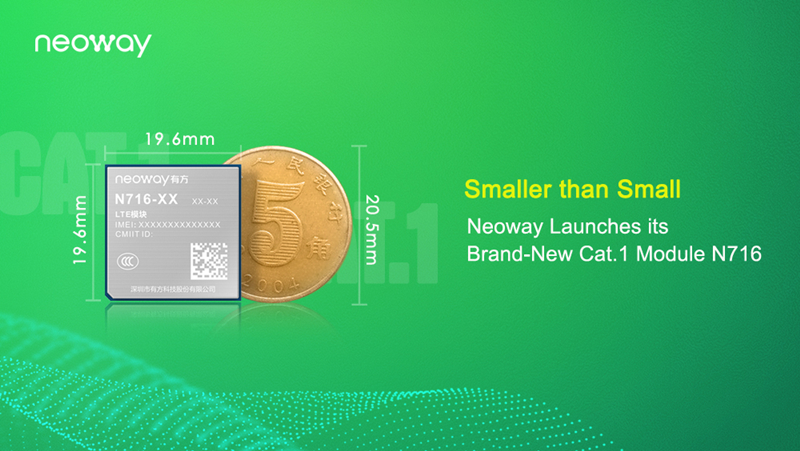 Prior to N716, Neoway had launched the world's first Cat.1 cellular module N58 based on the Cat.1 bis IoT chip platform in October 2019. In the first half of 2020, taking advantage of the 2G/3G network exit, N58 quickly took the lead in many market applications deployed in low-to-medium-rate scenarios.
N58 supports LTE Cat.1 bis and GPRS dual modes, and is also compatible with Neoway Cat.4 products. Therefore, N58 can backwardly support 2G networks, helping customers who are using 2G networks to smoothly transit to 4G; N58 can help customers quickly deploy the Neoway Cat.4 products without major modifications, greatly shortening development time.

N58 uses unique built-in positioning chip and uses GPS, GLONASS, BDS, and other multi-satellite positioning technologies to support positioning tracking systems in different regions, making positioning faster and more accurate.

N58 uses the unique Bluetooth function and can flexibly meet the short-distance communication needs of customers.
N58-based vehicle position tracking terminals have been shipped in batches, and are suitable for mainstream vehicle models in the market. In addition, Chery has recently launched the second-generation JETOUR equipped with N58, which has been successfully put into commercial use in the in-vehicle pre-installation market. Neoway has collaborated with many tier 1 manufacturers to launch wireless communication products for the IoV market. Neoway will continue to work with customers to provide more efficient and convenient solutions for the digitalization of IoV, and promote intelligent upgrades of the industry.