Neoway's N58 Becomes the First Cat.1 Module with Anti-Intrusion Function That Passes the CATARC Safety Test
To improve the Internet of Vehicles (IoV) communication security, prevent malicious attacks, and avoid information leakage, Neoway launched N58 to upgrade the software security protection capabilities and levels. N58 has recently passed the automotive safety test arranged by China Automotive Technology and Research Center Co., Ltd. (CATARC), and become the first Cat.1 wireless communication module with the anti-intrusion function.
With excellent performance, N58 has passed the tests of 44 security items in four categories, including port scanning, DoS attacks, brute force cracking, and buffer overflow detection. This proves that N58 will further enhance the security and reliability of wireless communication in the entire IoV industry and also promote the large-scale application of the Cat.1 wireless communication module in automobile intelligence and networking.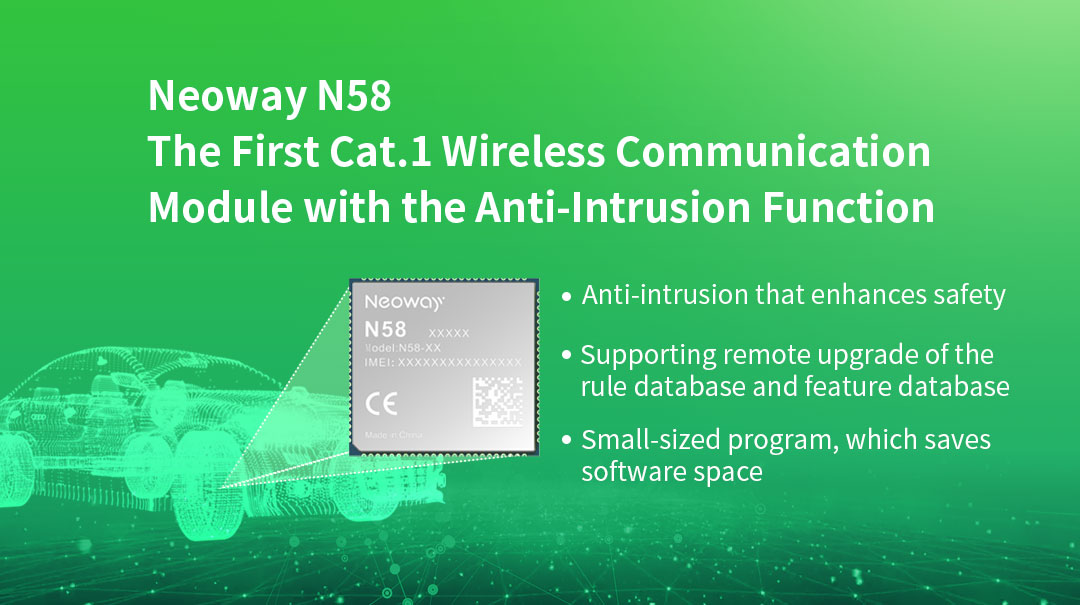 Furthermore, the N58's anti-intrusion program is only 30 KB (ROM/RAM), which improves the security defense performance while consuming less resources and saving more software space. The built-in remote software update function supports timely update of the rule database and feature database, laying a solid data foundation for improving security performance.
Cat.1 is a basic-level 4G network, and its downlink rate can reach 10 Mbps, which meets requirements of diversified IoV applications, such as remote diagnosis and query, vehicle control, Internet applications, remote upgrade. After passing the CATARC safety test, N58 can further enhance safety of smart car driving while meeting the real-time communication and mobility requirements.
Neoway Technology focuses on the "connection" of the Internet of Things (IoT), and has accumulated rich and mature industry experience in the R&D of in-vehicle and factory-installed wireless communication products. Today, Neoway's in-vehicle and factory-installed T-BOXs, OBDs, smart charging piles, shared two-wheelers, and vehicle positioning and tracking systems have been shipped in large quantities to over 300 industrial customers around the world, providing strong support for customers to accelerate product development, reduce development costs, upgrade communication security, and create more competitive products.