NB-IoT Smart Gas IoT Accelerates Development to Build a Gas Safety Barrier
On June 13, 2021, a gas explosion occurred in Shiyan, Hubei, China. As a result, 25 people were killed, and 138 people were injured. According to authoritative reports, gas explosion accidents that have occurred in recent years are mainly caused by aging pipelines, complex gas use environments, and irregular use of gas appliances. Relying entirely on manual inspections makes the inspection results to be subjective, untimely, and inaccurate.
With the development of IoT technology, NB-IoT is included in the 5G protocol standards and becomes the pioneer of 5G technology. NB-IoT technology helps data collection and transmission of all kinds of gas metering equipment, pressure/temperature monitoring terminals, gas leak monitoring terminals, and gas production and control systems. This helps implement the intelligence and automation of gas company management, greatly improving the efficiency and safety of gas production, transportation, storage, and use.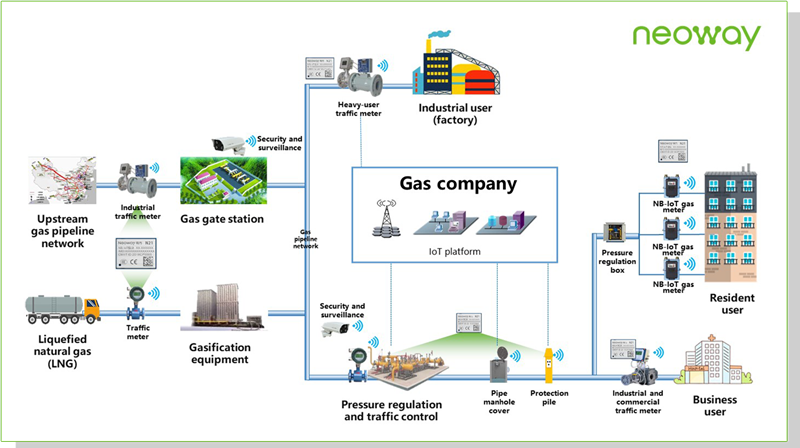 Neoway Technology has been cultivating the energy market for many years. By providing cellular modules and cloud products, Neoway Technology provides guarantee for stable and reliable transmission of terminal data in application scenarios, such as gas metering, leak detection, traffic monitoring, and pressure/temperature metering, implementing efficient O&M of smart gas. The NB-IoT star product N21 has won a large market share with outstanding performance in multiple bidding projects. N21 has the following characteristics:
Has small size (13.8 mm × 18.0 mm × 2.5 mm), which can meet the requirements of terminals for small-size modules to the greatest extent.

Supports built-in operator SIM cards (eSIM cards).

Supports TCP/IP/UDP/CoAP/MQTT and interworking of services on mainstream cloud platforms.

Supports BLE functions, which can meet the requirements of near-field maintenance and data collection.

Has ultra-wide operating temperature range and excellent RF performance. N21 is an excellent choice for energy metering, smart door lock, security protection, fire control, smart home, environmental monitoring, and other scenarios.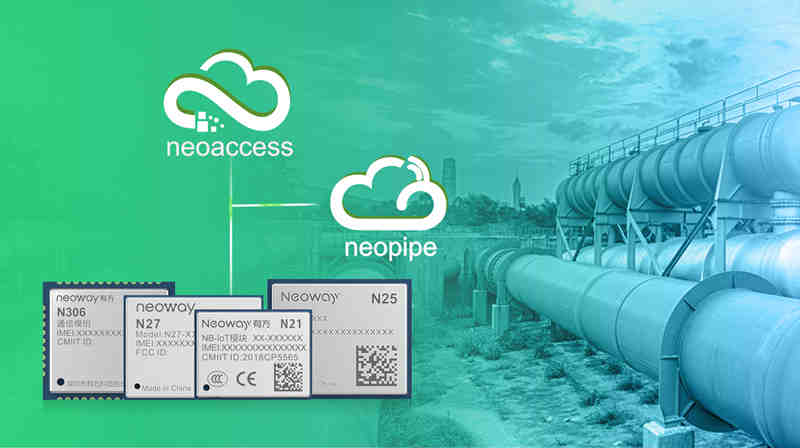 Neoway Technology is continuing to enrich the NB-IoT product family. Cat.NB+GPRS dual-mode product N25, Cat.M1+Cat.NB+GPRS three-mode product N27, and new-platform product N306 with wide voltage range and low power consumption provide more choices for customers in different scenarios.
The communications pipeline management platform pioneered by Neoway Technology (Neopipe cloud), communications access platform (Neoaccess cloud), and Neoway NB-IoT modules, provide gas customers with a one-stop and integrated "cloud-pipe-terminal" communications optimization management solution. This solution helps improve the efficiency of intelligent O&M, intelligently analyze data, form visual reports, and provide warning of exception situations. With this solution, gas operators can realize early warning and early maintenance in case of accidents, improving O&M efficiency by 30% to 40%.
Neoway Technology continues to provide innovative products and solutions and has in-depth collaboration with many well-known smart gas meter manufacturers. Smart meters equipped with Neoway Technology products are widely used by many gas companies, effectively improving the stability and safety of gas metering communications.