Neoway Released Cat.M's New Product N300, Helping Global Deployment of Customers' Products
In the distribution of cellular IoT connections, medium-rate IoT services that account for about 30% of the total services require that Cat.1 or eMTC networks provide services. In the 3GPP Rel.13 standards frozen in 2016, two new specifications, Cat.M1 (eMTC) and Cat.NB (NB-IoT), were proposed to implement lower power consumption, lower cost, and wider coverage for LTE to meet communications requirements of a large number of devices. In 2021, many tier-1 operators, such as AT&T, Deutsche Telekom, and Orange, have deployed eMTC networks in North America, Europe, Latin America, South America, and other regions to provide network support for IoT communications.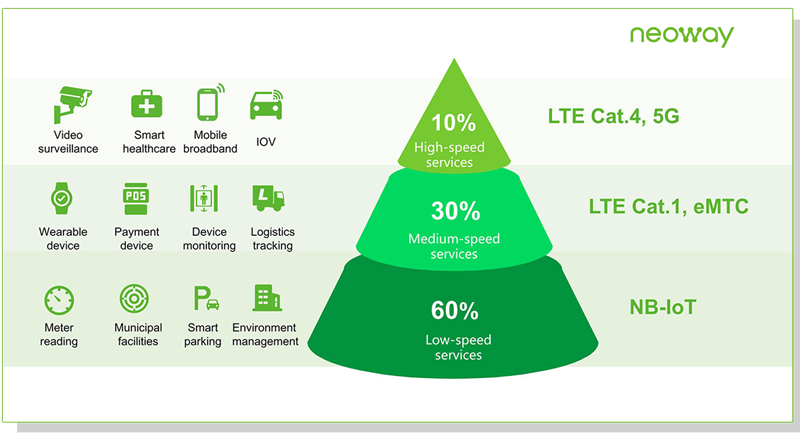 The newly released N300 series products of Neoway Technology are industrial-grade cellular modules, focusing on eMTC technology to meet global band coverage, and the full-band transmission power can reach PC3. N300 series products meet the application requirements of most low-to-medium-rate scenarios, and use higher transmission power to further expand coverage.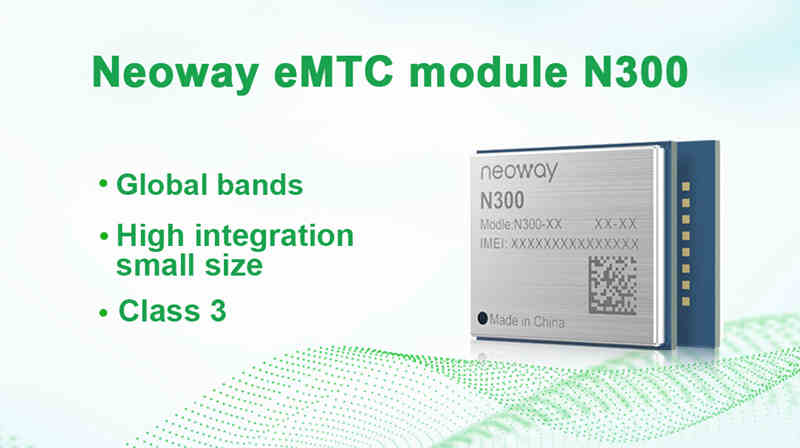 3GPP Rel.14 technology, support for LTE Cat.M1, and with the uplink/downlink rate of 1119 kbps/588 kbps.

Dimension of 18 mm × 15 mm × 2.25 mm, which is more suitable for high-end terminals with higher requirements for integration and size.

Support for multiple network protocols, such as COAP, UDP, TCP, MQTT, and LWM2M, facilitating rapid service integration.

Support for global bands, which can help customers develop products and promote services in key countries and regions around the world.
In addition to the new product N300, Neoway Technology also has a series of LPWA modules that have the features of low power consumption, low rate, and wide coverage. These modules include single-mode NB-IoT module N21, NB-IoT/GPRS dual-mode module N25, and eMTC/NB-IoT/GPRS three-mode module N27. They provide customers with abundant choices and stable and reliable access communications products and services.