Neoway Technology Won the Bid for China Mobile's Centralized Procurement of 5G Modules
Recently, China Mobile announced the results of the bid for the centralized procurement of 5G modules from 2021 to 2022. Neoway Technology's 5G module N510M won the bid for this centralized procurement project.
The volume of this centralized procurement is 320,000 pieces, which is the largest centralized procurement project of 5G modules in the industry so far. It is of great significance to promote the large-scale application of 5G in the industry.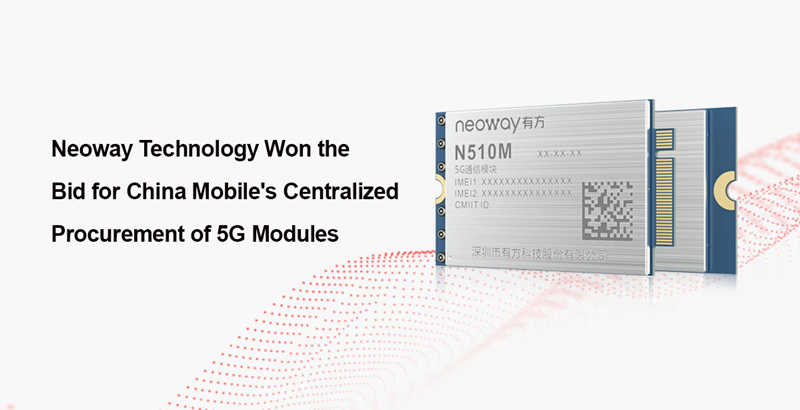 The 5G industrial-grade module N510M released by Neoway Technology in early 2020 is the 5G module based on the UNISOC platform. It supports key regions and mainstream frequency bands around the world, with a peak downlink rate of up to 1.95 Gbps; it supports both SA and NSA networking, and is backward compatible with 4G and 3G networks; it supports network slicing to meet the hierarchical applications of 5G dedicated networks for different services, and supports national encryption technology to make industrial production data safer; it has industrial-grade quality, rich interfaces, and stable performance.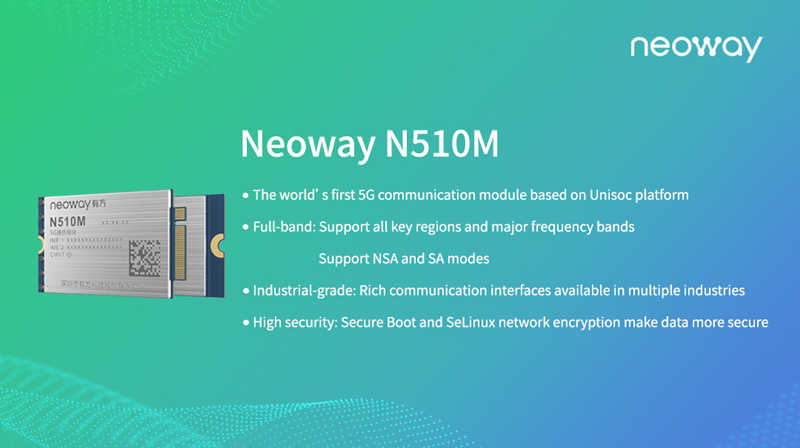 Neoway N510M has been applied in many scenarios, such as CPE, high-definition video surveillance, smart grid, and industrial IoT.
As a 5G partner of China Mobile, Neoway Technology has been maintaining close collaboration with China Mobile. At China Mobile Global Partner Conference in 2020, Neoway N510M joined China Mobile's "5G Industry Terminal Sailing Plan" to help accelerate the establishment of a 5G ecosystem and promote the development of the digital economy and society.
In addition to N510M, Neoway Technology has a dual-core layout to meet the multi-scenario needs of 5G IoT. Neoway Technology launched the automotive-grade 5G+C-V2X communications module A590 in 2021 Q2. A590 provides stable and reliable communications guarantee for safe driving, autonomous driving, and vehicle-road collaboration of smart vehicles.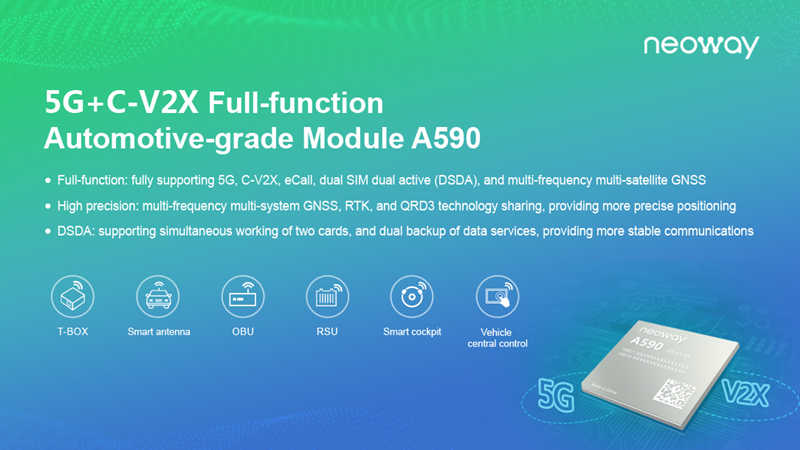 As key communications products for industrial digitization, 5G modules will surely become the connectivity core of Internet of everything. According to McKinsey's forecast, the global IoT market has the potential to grow to US$3.9-11.1 trillion in 2025. The rapid development of the IoT industry will help develop more integrated and innovative applications and drive the demands for cellular modules to explode. Neoway Technology focuses on the "connectivity" of IoT. In the 5G era, Neoway Technology will continue to provide stable and reliable access communications for industrial IoT, accelerate the integration of 5G into thousands of industries, and help build a fully connected, intelligent world.