Neoway Technology Cat.1 Modules Help Emergency Communications for Rescue and Disaster Relief
Since August 8, 2021, the middle and lower reaches of the Yangtze River in China had experienced extremely heavy rainfall, especially in many cities of Hubei. Not long ago, the "July 20, 2021" heavy rain disaster in Zhengzhou, Henan Province also caused heavy casualties and property losses.
In the face of the extremely heavy rainfall that frequently occurs during the flood season, it is important to understand the disaster situation in a timely and accurate manner on the front line of disaster relief and rescue. Therefore, the communications between the disaster relief personnel must be stable, reliable, and timely to ensure the smooth progress of the rescue work. Push-to-talk over cellular (PoC) plays an indispensable role in the rescue work.
The coverage of traditional walkie-talkies is generally 1-5 kilometers, and group communications require frequency modulation, which is inconvenient to use. PoC runs on 4G networks and is not limited by distance. PoC can help free talks within operators' signal coverage areas to meet the needs of real-time calls for cross-regional and remote coordination operations.

PoC relies on digital signals, with clear sound quality and rich multimedia functions, and can provide the transmission of voice, video, and data.

PoC supports the positioning function, and can help visually display the real-time position of the staff, grasp the trend, and dispatch the staff in the area to deal with the incident in real time in an emergency.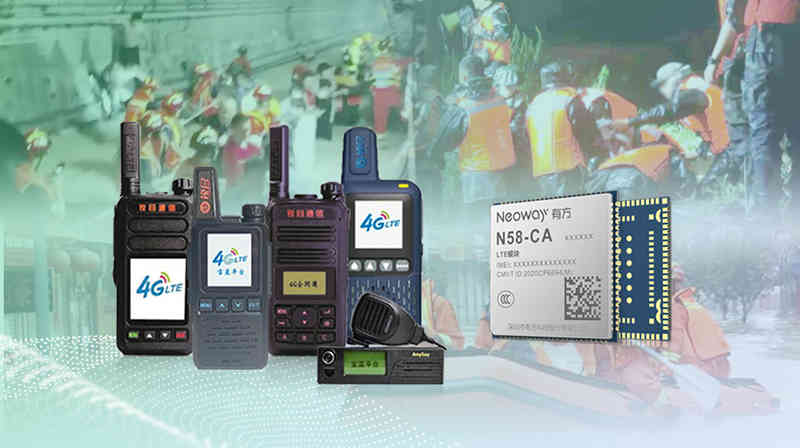 It is reported that during the rescue process of the heavy rain disaster in Henan, Henan Baolan provides more than 5,000 PoCs for Zhengzhou Mining Bureau, Xuchang City Management Bureau, Luoyang Railway Bureau, Xinxiang Telecom, taxi companies, and other institutions to provide communications support. Among them, many PoCs are equipped with Neoway Cat.1 cellular module N58.
N58 is the world's first Cat.1 cellular module based on the LTE Cat.1 bis IoT dedicated chip V8910DM. With the differentiated advantages of stable and reliable communications, N58 is used in PoC, payment terminals, IoV, energy metering, sharing, equipment management, and other scenarios.
Henan Baolan, as a leader in the PoC industry, has a self-developed intercom platform with compact products and rich functions. For many years, Neoway Technology has continued to collaborate with Henan Baolan in R&D to provide customers with stable and reliable communications terminal products and continuously improve customer value. In the era of the Internet of everything, Neoway Technology will continue to make efforts in the PoC industry to provide stable and reliable instant communications for public security, fire control, transportation, and other departments. This enables the communications to be warm and the rescue to be more timely.