Neoway 5G+V2X Helps Interconnection and Mutual Awareness of Vehicles and Move Towards Electrification, Intelligence, Connectivity, and Sharing
According to the L0-L5 driving levels defined in the "Driving Automation Levels" published by Society of Automotive Engineers (SAE), some smart connected vehicles have reached L3 (automated driving under limited conditions, such as traffic jams) and L4 (urban "robot taxis" may not need to install pedals, steering and other devices), and moved towards L5 (unmanned driving in all terrains).
In the process of vehicles moving towards electrification, intelligence, connectivity, and sharing, 4G telematics box (T-Box) as the communications hub has provided single-vehicle intelligence, and basically meets the vehicle connectivity requirements. However, in the face of the trend of high-speed intelligent connectivity of everything, vehicles need to be aware of each other with all the elements participating in traffic activities and the environment (including road conditions and weather) to form a huge smart vehicle network. Therefore, higher requirements for communications rates, delay, bandwidths, and others are raised.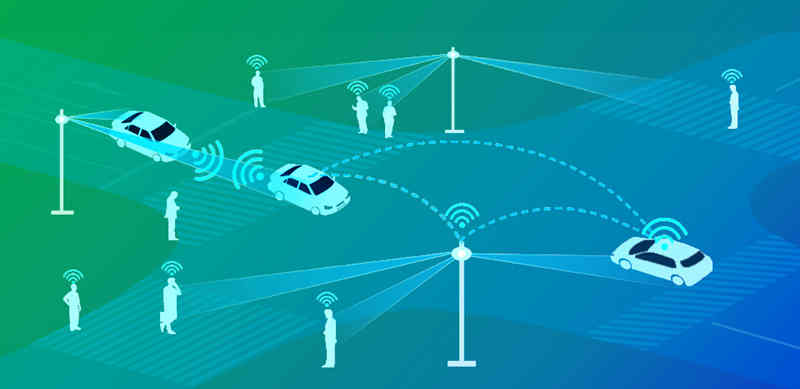 In the past, 4G T-Box collected vehicle information by using the CAN bus and needed to upload the vehicle information to the platform to implement vehicle connectivity, rather than direct interconnection and mutual awareness between vehicles, which would cause a certain delay. 5G T-Box not only implements connectivity over cellular mobile networks, but also implements data transmission between vehicles by using V2X technology, with lower delay and more real-time and more accurate information feedback.
Neoway's latest automotive-grade cellular module A590, developed on Qualcomm automotive-grade chip platform SA515M, can help T-Box terminals quickly implement communications upgrades.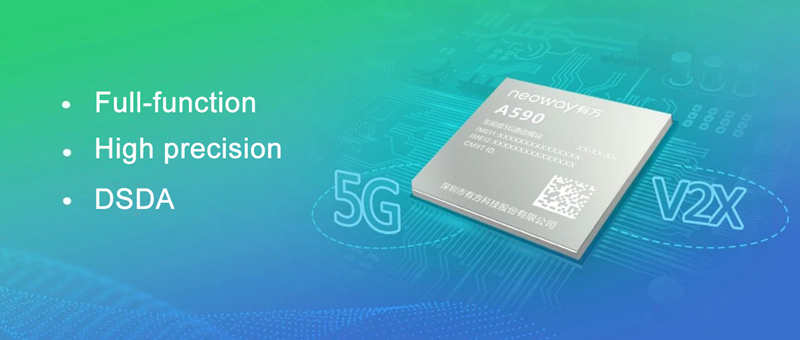 A590 supports 5G SA/NSA, and is backward compatible with 4G and 3G; A590 supports C-V2X technology that can implement direct communications.

A590's dimensions are only 52 mm × 52 mm. A590 is the smallest full-function 5G+C-V2X automotive-grade module, and supports an ultra-wide operating temperature range of -40°C to +85°C.

A590 complies with IAFT 16949 and AEC-Q100 standards, and follows the automotive-grade quality control processes: advanced product quality planning (APQP) and production part approval process (PPAP).

A590 supports dual SIM dual active (DSDA) and GNSS multi-system dual frequency (L1+L5) positioning. A590 can provide customers with centimeter-level high-precision positioning by using real-time kinematic (RTK) positioning and Qualcomm dead reckoning (QDR).

A590 supports Gigabit vehicle Ethernet interface RGMII, and Ethernet AVB technology.

A590 meets the security requirements of vehicle manufacturers, operators, and vehicle owners, and ensures vehicle startup security, system security, and communications security.
T-Box terminals equipped with Neoway A590 provides customers with stable and reliable communications, provides users with vehicle control, fault diagnosis, and other services, and helps accelerate the implementation of V2V, V2I, V2N, and V2P.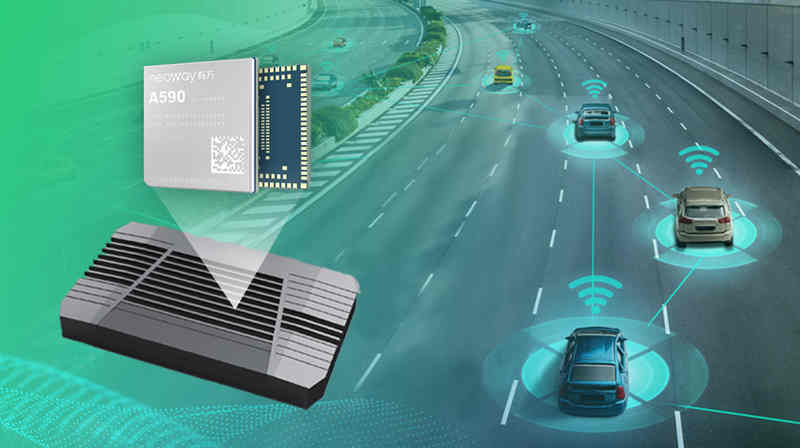 As a 5G automotive-grade product launched by Neoway Technology in 2021, A590 can meet the application requirements of smart antennas, OBUs, RSUs, smart cockpits, and vehicle central control terminals. A590 is especially suitable for in-vehicle pre-installation T-Box application scenarios, and provides strong support for safe driving and even automated driving of smart connected vehicles.
With the advent of the 5G era, vehicles will not only be used as a means of transportation, but will also become an extension of office, entertainment, and leisure travel. The high bandwidth, low latency, and ubiquitous connectivity of 5G will further enhance the interactive awareness of vehicles and all traffic elements, greatly improving traffic efficiency. 5G is here. As a key connectivity link of the Internet of everything, Neoway Technology will continue to provide stable and reliable access communications products, and continue to expand the differentiated advantage of "stable and reliable" to help IoT continue to be intelligently upgraded.