Pre-sale of Chery QQ Ice Cream Equipped with Neoway's Cat.1 Module, Composing a New Chapter in Interconnection of Mini Vehicles
A few days ago, Chery's first mini pure electric vehicle under the Chery iCar ecosystem, "Chery QQ Ice Cream", was pre-sold. The vehicle is equipped with airbags, heating and cooling air-conditioning, and other configurations, and more importantly, the vehicle has the network connection function. Bright colors and diversified designs are popular among young people.
Chery QQ Ice Cream is equipped with Neoway's Cat.1 star product N58 as the communications hub, marking that Neoway N58 has once again been used in in-vehicle pre-installation in addition to being used in Chery's second-generation JETOUR. It is also the first time that Cat.1 has been applied to mini vehicles.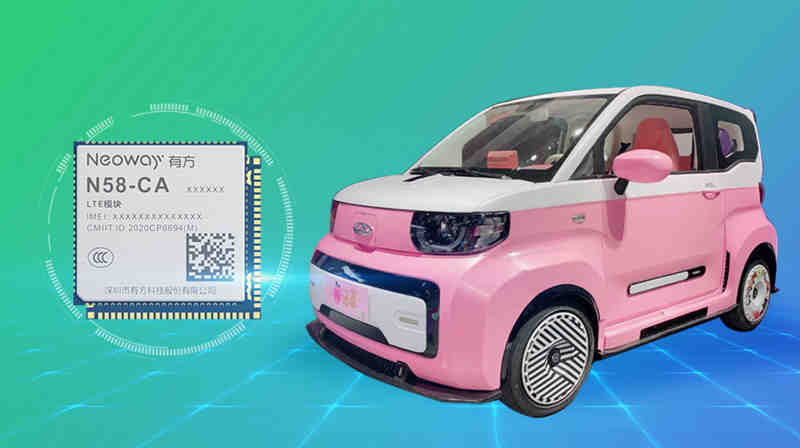 Under the situation of large-scale shortage of global industrial chips, "Chinese chip" is becoming a good medicine for auto brands to treat "chip shortage". Neoway N58 is the world's first Cat.1 bis wireless communications module based on Chinese chip. Since its launch in 2019, it has maintained stable supply and provided stable and reliable communications guarantee for customers and users.
In the past, most passenger vehicles used Cat.4 communications modules. Neoway Technology and Chery worked closely together to be the first to use Neoway Cat.1 as the communications module for in-vehicle pre-installation T-Box. This reduces the cost, and it is possible to upgrade more vehicles with economical models to connected vehicles.
Neoway N58 has been commercially used in batches for Chery QQ Ice Cream mini electric vehicles. After on-site road testing, it shows that N58 can implement various IoV functions, such as remote vehicle control and online audio, making a forward-looking technical layout for the upcoming comprehensive vehicle connectivity .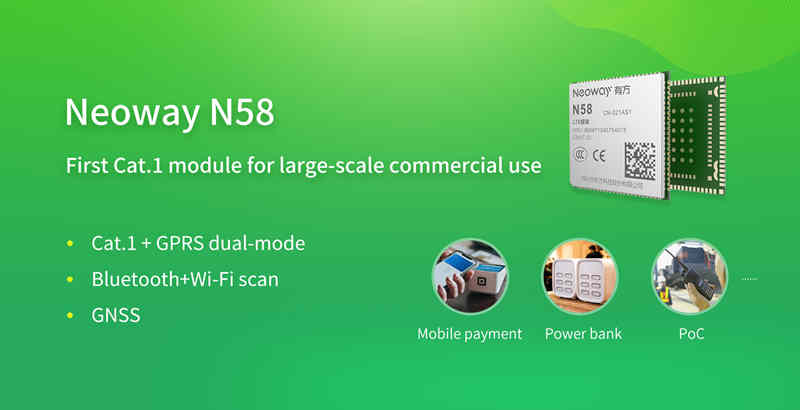 N58 runs on the world's most extensive LTE networks of base stations and is compatible with 2G and LTE Cat.1, which can help customers using 2G networks achieve smooth network upgrades. At the same time, N58 can be Pin2Pin compatible with Neoway Cat.4 star module N720, and switching can be achieved without excessive hardware changes.

N58 has the uplink rate of 5 Mbps and downlink rate of 10 Mbps, which can be used in many medium and low rate application scenarios.

N58 has low power consumption and an ultra-wide operating temperature (-40°C to +85°C). It is suitable for high temperature/cold application scenarios, and can pass the rigorous tests of the vehicle operating environment.

N58 provides GNSS positioning and Wi-Fi scan and can use multiple systems to help precise vehicle positioning.

N58 provides unique Bluetooth and MOTA+FOTA far and near field communications, so that N58 can be maintained and upgraded quickly without the need to consider the distance.
In addition to the four-wheeled vehicle T-Box terminal, Neoway N58 is also commercially used in many IoV upstream and downstream industries, such as in-vehicle infotainment products, smart in-vehicle boxes, charging piles, motorcycle T-Box, two-wheeled electric vehicles, and power exchange cabinets, enabling the automotive industry ecosystem.
Neoway Technology works together with upstream and downstream industries and continuously promotes the iterative upgrades of IoT communications technology based on 15 years of leading advantages and accumulated experience in the wireless communications industry. Neoway Technology continues to concentrate on insights into the needs of IoT customers, continues to innovate, enables the ecosystem with technology, connects everything with communications, and provides inexhaustible power for building a digital and intelligent world, in the smart energy industry with traditional advantages, developing IoV industry, sharing industry, and smart city that benefits the people's livelihood.