Neoway Technology and China Telecom Signed a 5G Module Collaboration Agreement at Tianyi Intelligent Ecological Expo
On November 11, the 2021 International Digital Technology Exhibition and Tianyi Intelligent Ecological Expo (hereinafter referred to as the "Expo") was held in Guangzhou. With the theme of "Cloud-Network Integration, Helping Digital Intelligence", this year's expo showed the industry the staged achievements of "national digital development, industry digital transformation, and people's high-quality life". At the Terminal Development Collaboration Forum and the 12th Member Conference of China Telecom Terminal Industry Alliance held on November 10, 2021, Neoway Technology and China Telecom signed a 5G module collaboration agreement to jointly promote 5G Tianyi smart terminals to accelerate the application.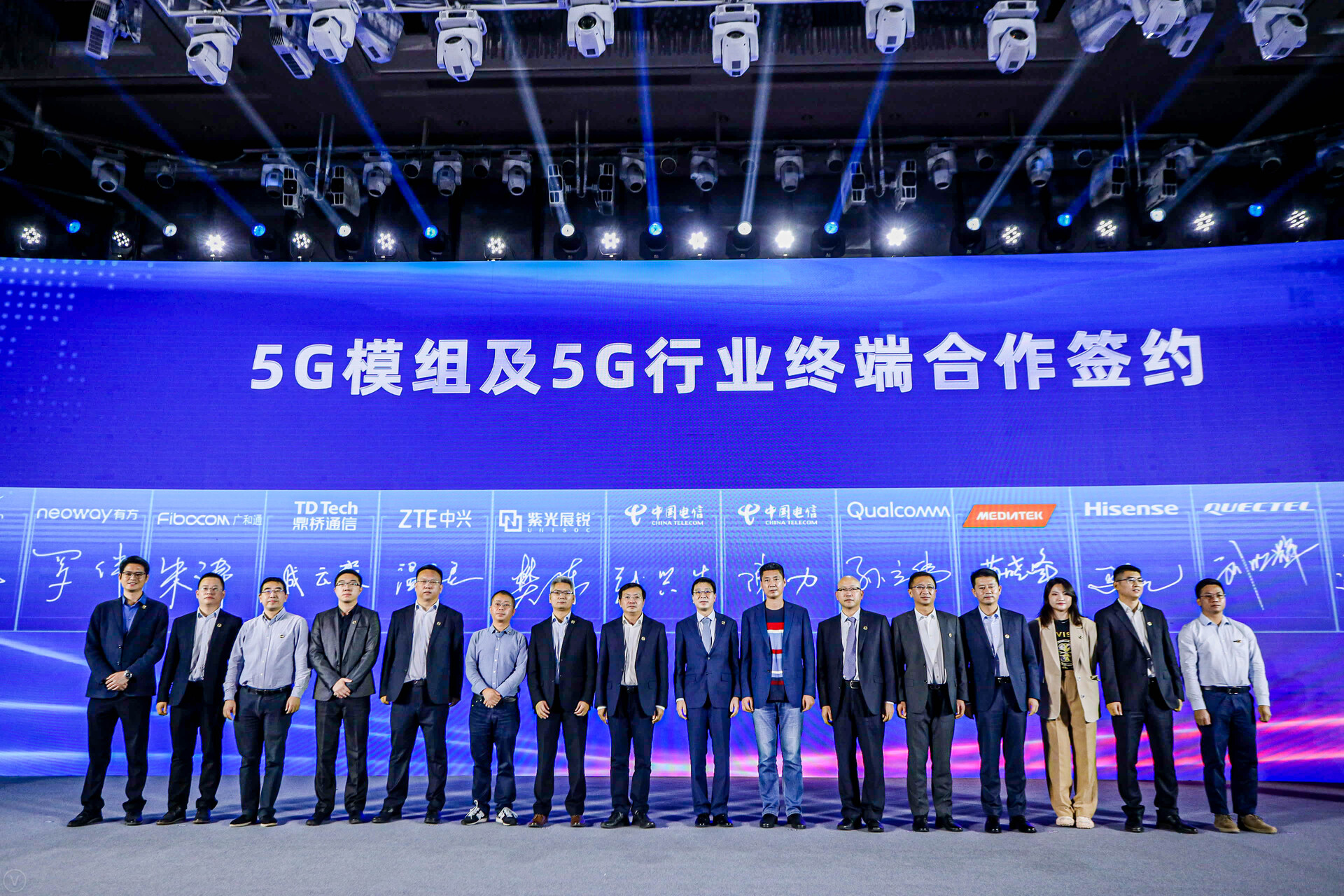 As the industry's first 5G module based on UNISOC's Chinese chip
Neoway N510M supports key regions and mainstream frequency bands around the world, with a peak downlink rate of up to 1.95 Gbps.

N510M supports SA/NSA and is downward compatible with 4G and 3G networks.

N510M supports network slicing and can meet the hierarchical applications of 5G dedicated networks for different businesses.

N510M has industrial-grade quality, rich interfaces, and stable performance and can enable many industries, such as industrial control, smart energy, and consumer electronics.
Neoway N510M has been widely used in many scenarios, such as smart grid, CPE, high-definition video surveillance, and industrial IoT.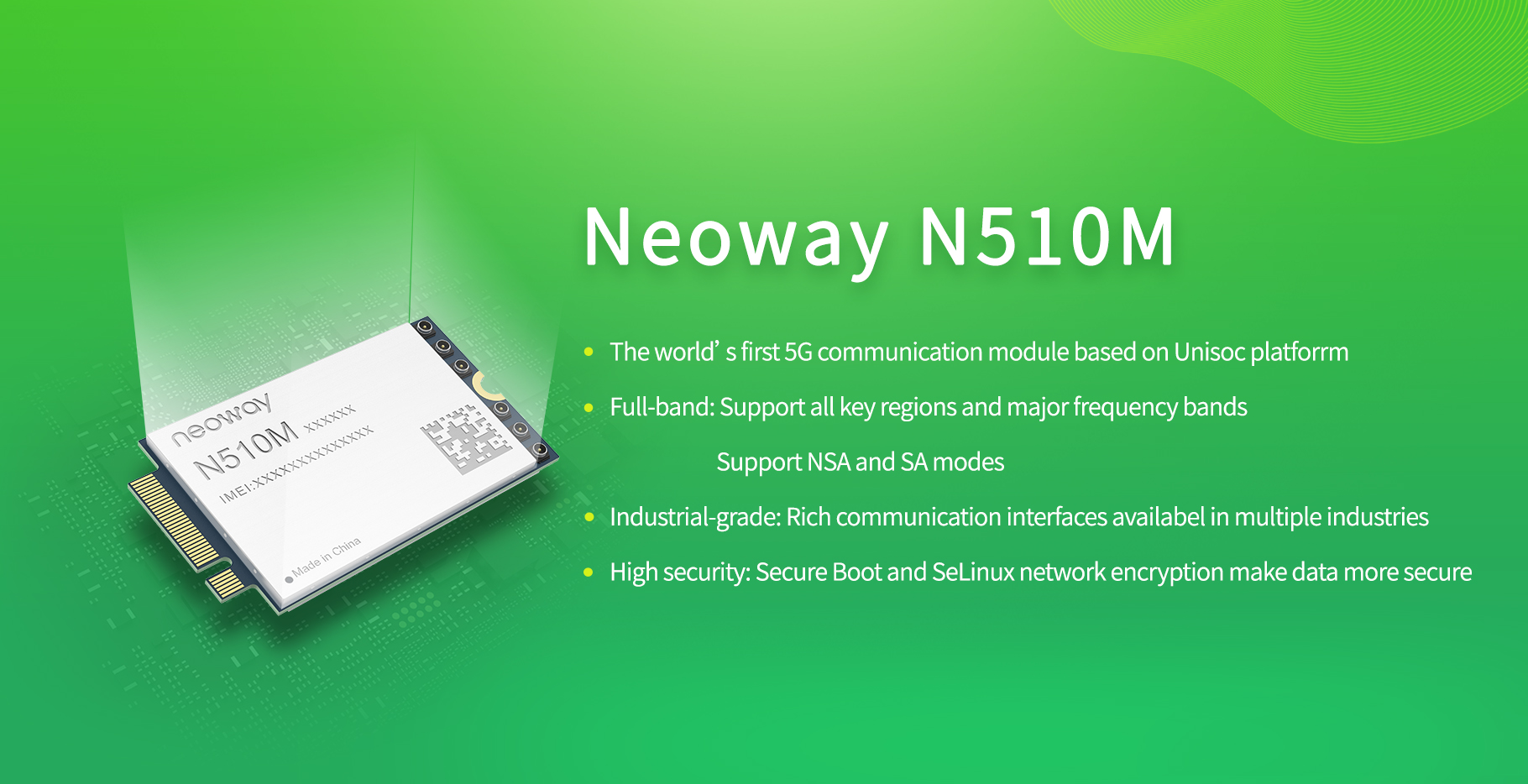 Over the years, Neoway Technology and China Telecom have carried out close collaboration in many provinces and cities across the country, involving multiple business fields, such as cellular modules, electronic student ID cards, and IoT cards. Neoway NB-IoT star product N21 has entered China Telecom's product library, and the N21 purchase contract of 500,000 pieces has been signed to provide stable and reliable communications for smart energy, smart door locks, smart security, environmental monitoring, and other IoT application scenarios.
Nine products of Neoway Technology Cat.1 bis modules, including Neoway N58, 4G module Neoway N720, NB-IoT module N23, and N306, have passed the tests and entered China Telecom product library.

These products are used for in-vehicle pre-installation, sharing industry, security monitoring, smart energy, smart city, and other IoT application scenarios to accelerate the digitization and intelligentization of industries.

Neoway Technology's electronic student ID card T381 has been shortlisted for Gansu Telecom's centralized procurement project.

Under the policy of "Mobile Phones Forbidden to Enter Campus", T381 meets students' home-school communication requirements and implements large-scale campus applications. T381 solves the communication and positioning problems between parents and students, helps maintain the classroom order, and improves teaching quality.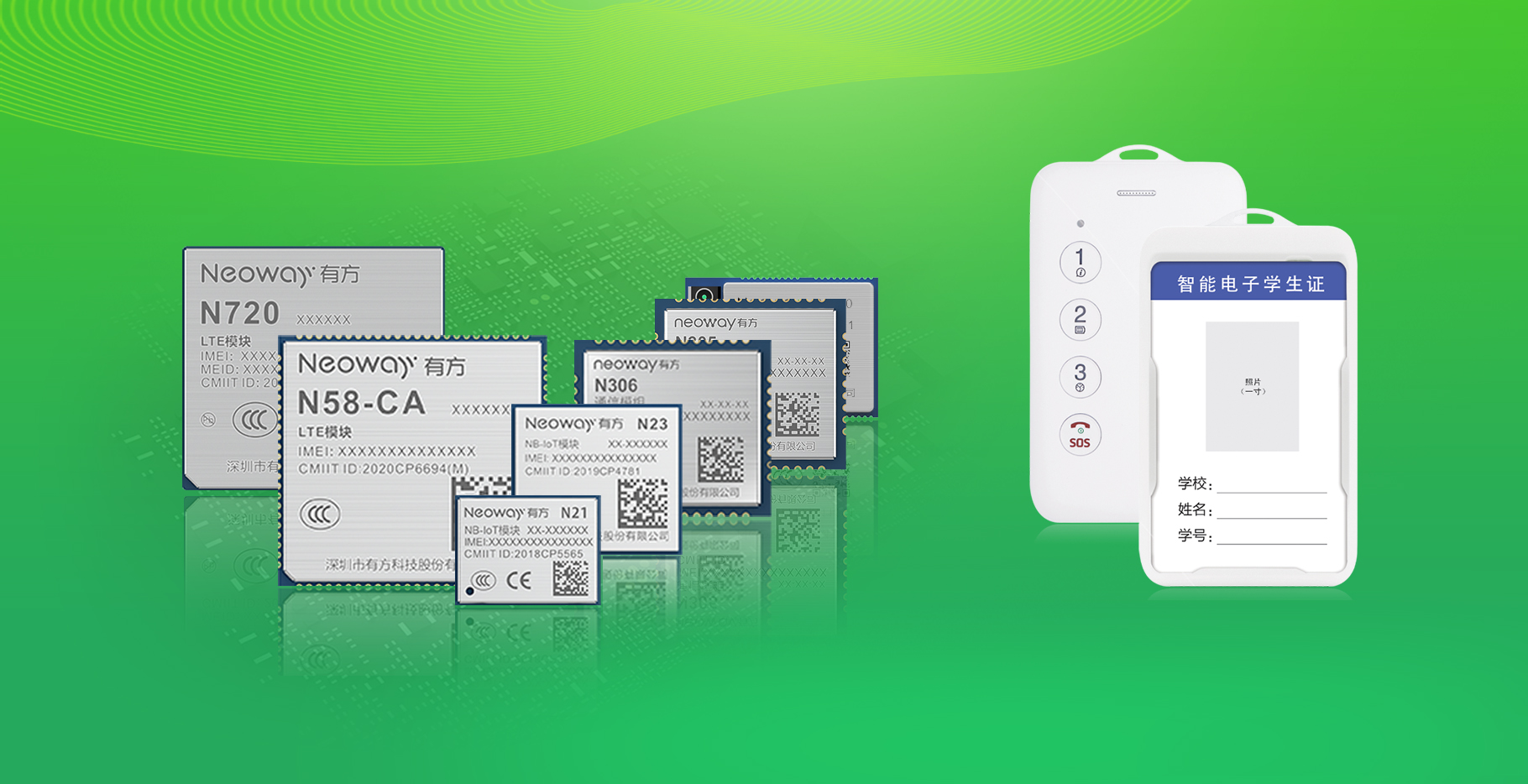 For many years, Neoway Technology has maintained multi-product, multi-mode, and multi-dimensional ecological collaboration with China Telecom, and has worked together to provide stable, reliable, and secure communications for the industry. In 2019, Neoway Technology participated in the compilation of IoT Security White Paper issued by China Telecom Tianyi IoT Industry Alliance to provide IoT security standards for technology applications and product design, and help the healthy development of the IoT industry. In 2020, Neoway Technology won the "Special Contribution Award for Security Promotion" issued by China Telecom Tianyi IoT Industry Alliance, helping build a digital base for secure communications.
Neoway Technology will continue to innovate, strengthen collaboration with upstream and downstream ecosystems, and continue to expand its differentiated advantages of stability, reliability, and security with its "cloud-pipe-device" integrated access communications solution, and work with partners to enable thousands of industries in digital upgrades, helping accelerate the implementation of industry applications.