IoT Asia+ Opened on the Cloud, Neoway Helps Digital Transformation of Industries Using Connectivity
From 16-17 March 2022, the 7th IoT Asia+ opened on the cloud. Under the theme of "connectivity, convergence, and collaboration", IoT Asia+ provided audiences with integrated blockchain, AI, AR, and other technologies.
As a deep cultivator of the IoT market in Asia, Neoway demonstrated the IoT access communications solutions based on a cloud-pipe-device architecture in this online exhibition, and shared with industry experts about Neoway's industry perspectives and practical experience in several key industries.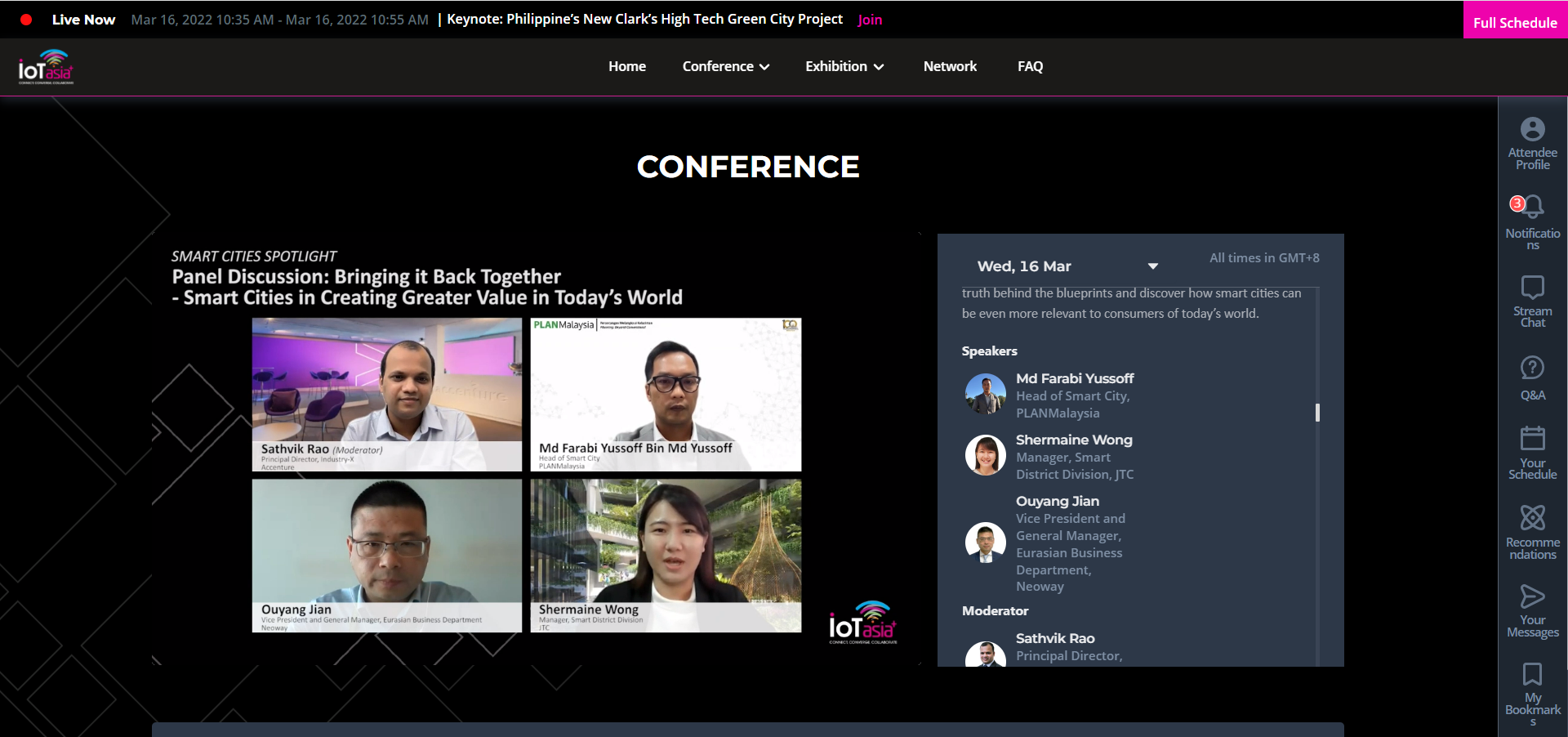 Smart City: Co-construction and Shared Digital Governance Make Cities "Smarter"
The construction of smart city has developed from the stage of exploration to the stage of implementation. Based on the experience accumulated in the construction of smart cities in China, Ouyang Jian, vice president of Neoway, said in the expert forum with the theme of "Bringing it back together-Smart cities in creating greater value in today's world" that IoT technology is developing in smart cities. It plays two major roles in this stage: the first is the unified planning and deployment of IoT sensing devices to implement unified access and centralized management of terminal access devices; the second is to build a unified visual IoT management platform to implement cross-region, cross-department, cross-level, and cross-system data sharing, providing a foundation for improving urban digital governance capabilities and governance.
Neoway has pioneered the launch of access communications solutions based on a cloud-pipe-device architecture, providing stable, reliable, and secure access communications for customers, such as IoT operators and manufacturers of smart interconnected products. Neoway's cloud-pipe-device integrated access communications solutions have been widely used in the construction of many urban infrastructures, such as transportation, water, electricity, heat, gas, bridges, and buildings. This helps implement panoramic data association, intelligent network management, scenario-based situational awareness, and standardized unified access, improve the digital capability of urban governance, facilitate the construction of digital cities, and promote the development of digital economy.
Smart Energy: 2.0 Era Opens, and Power IoT Continues to Upgrade
"Traditional power grids will gradually be replaced by smart grid solutions, because smart grids help improve the efficiency and reliability of energy distribution, and can better optimize resource allocation and asset utilization." Sophy, senior sales manager of Neoway, gave a keynote speech "Smart Metering Communication Solutions" stated, "Globally, 3GPP cellular communications technology has gradually become the mainstream communications technology of the power IoT. In the next five years, we believe that NB-IoT, Cat. M, LTE Cat.1, Cat. 4, and 5G will be used more and more widely."
Neoway has been deeply engaged in the field of IoT communications for 16 years, and has rich experience and profound accumulation in the vertical field of power IoT. Since the beginning of the intelligentization of China's power industry in 2009, Neoway has grown and continued to lead the smart grid with stable and reliable innovative communications products. Neoway develops 2G, 3G, 4G, NB-IoT, Cat. 1, and 5G wireless communications products to provide stable and reliable access communications solutions for the intelligent and digitalized power grid in multiple links, such as power generation, transmission, distribution, and consumption. Since 2010, Neoway has remained the No.1 market share in the power IoT industry. As the power grid enters the 2.0 era and the global energy structure is continuously optimized, Neoway's cloud-pipe-device integrated access communications solutions have been applied to Europe, Southeast Asia, Africa, South America, the Middle East, and other regions. Neoway collaborates with customers to serve the power markets in many countries around the world.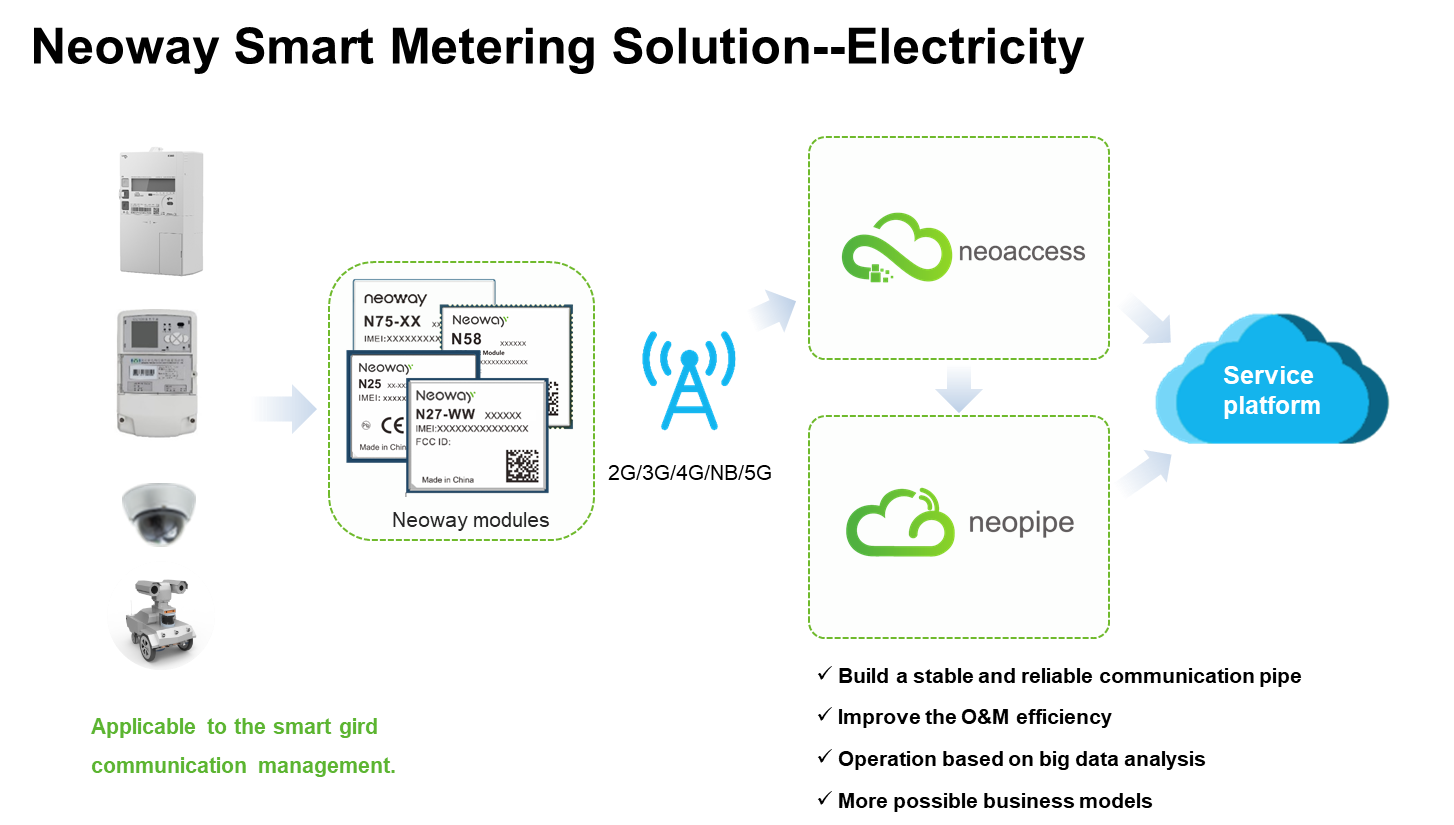 IoV: Neoway Helping the Multi-scenario Applications of IoT Become a Reality, With Leading Technologies and Products
As a telematics technology provider (TTP) in the industry chain, Neoway provides IoV terminals and technical services for global TSP, tier-1, and automobile OEM customers. In the keynote speech "Smart Tracking in Smart Cities - Trends of Telematics Industry", Jenny, senior sales manager of Neoway, analyzed in detail the industry trends, pain points, and solutions of application scenarios, such as fleet management, automobile insurance, and asset management.
The IoV terminals equipped with Neoway's communications technology have been applied in many countries and regions, such as the United States, Brazil, Spain, Italy, Russia, and India.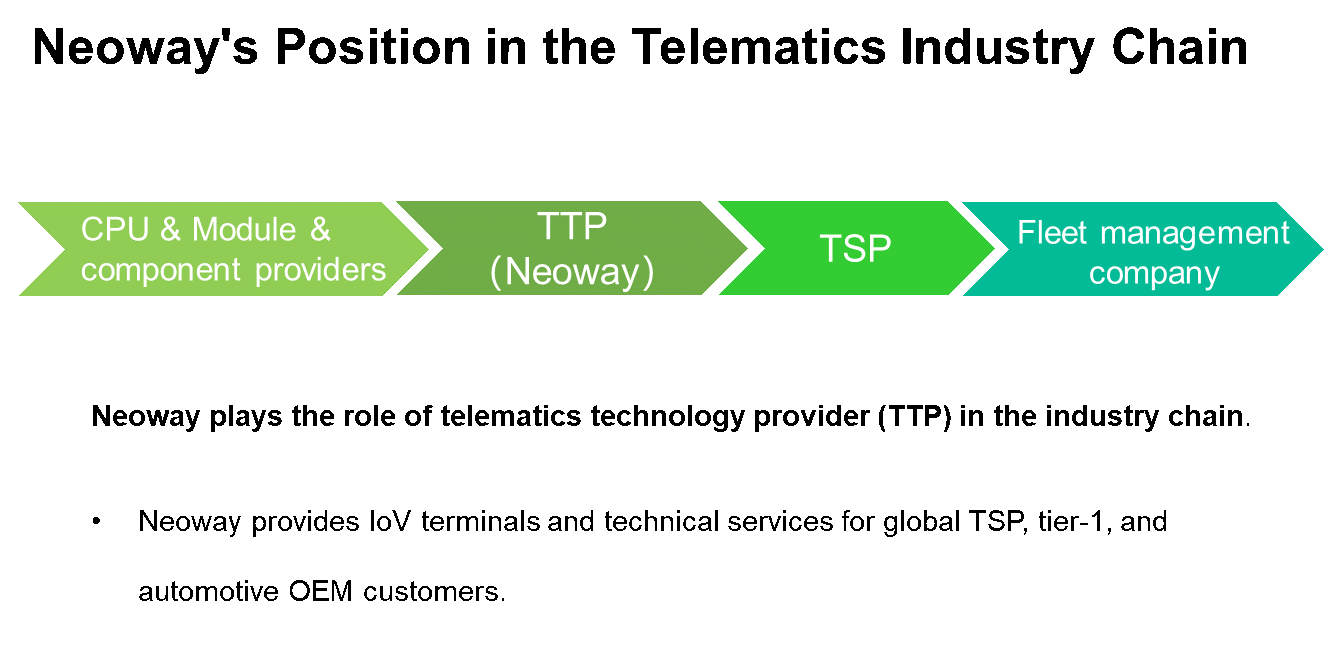 Looking back on the past few years of hard work in the Asian markets, in addition to the No.1 market share in the power IoT industry in China, Neoway has also achieved the No. 1 market share in the power IoT market in India and the No. 1 market position in Vietnam's in-vehicle aftermarket shipment volume.