Neoway Collaborates with Mogulinker to Implement Smart Energy Saving in Industrial Production
In industrial enterprises, there are two types of real manufacturing scenarios. One is the direct production workshop, which can directly produce food, cloths, medicine, automobiles, mobile phones, large machinery, and others. Its production power comes from another type of workshop, indirect production workshop (also known as public auxiliary workshop), which provides a series of necessary power and energy, such as water, electricity, gas, cold, and heat, for the direct production workshop.
Under the background that China has incorporated peak carbon dioxide emissions and carbon neutrality into the overall layout of ecological civilization construction, and will focus on promoting energy conservation and emission reduction, and green development during the "14th Five-Year Plan" period, manufacturing enterprises are facing increasing pressure for transformation. Among them, the problem of excessive supply energy consumption between public auxiliary workshops and production workshops needs to be urgently solved. The IoT technology can help solve this problem.
Mogulinker, the developer of the general platform for the industrial Internet, developed a cloud intelligent control AI intelligent control energy-saving solution for public auxiliary workshops of industrial enterprises based on the Cat.1 modules of Neoway Technology. In addition, it used IoT, cloud computing, and AI technology to help industrial enterprises carry out workshop-level intelligent transformation, effectively solving the problem of redundant energy supply between public auxiliary workshops and production workshops, implementing energy supply on demand, and saving energy and reducing carbon by about 10% to 30%. It has achieved smart energy saving for multiple top 500 companies, including Midea, Whirlpool, Hisense, LONGCHEER, and GAC, giving full play to the great value of IoT in the digital upgrades of traditional industries.
The industrial gateway developed based on Neoway's Cat.1 star module N58 has been commercially used for public auxiliary workshop equipment, such as air compressors, providing stable, reliable, and secure access communications for networking management:
N58 is the industry's first Cat.1 module developed using Cat.1 bis technology. It runs on LTE networks with the widest coverage in the world and supports mainstream frequency bands in key regions.

N58's uplink and downlink rates are 5 Mbps and 10 Mbps, respectively, which can fully meet the requirements of medium and low rate applications for industrial equipment networking.

N58 has low power consumption, ultra-wide operating temperature range (-40°C to +85°C), and is suitable for application scenarios where the temperature in the workshop is excessively high or low.

N58 provides unique Bluetooth and MOTA+FOTA far-field and near-field communications so that N58 is not limited by distance, helping provide rapid maintenance and upgrades.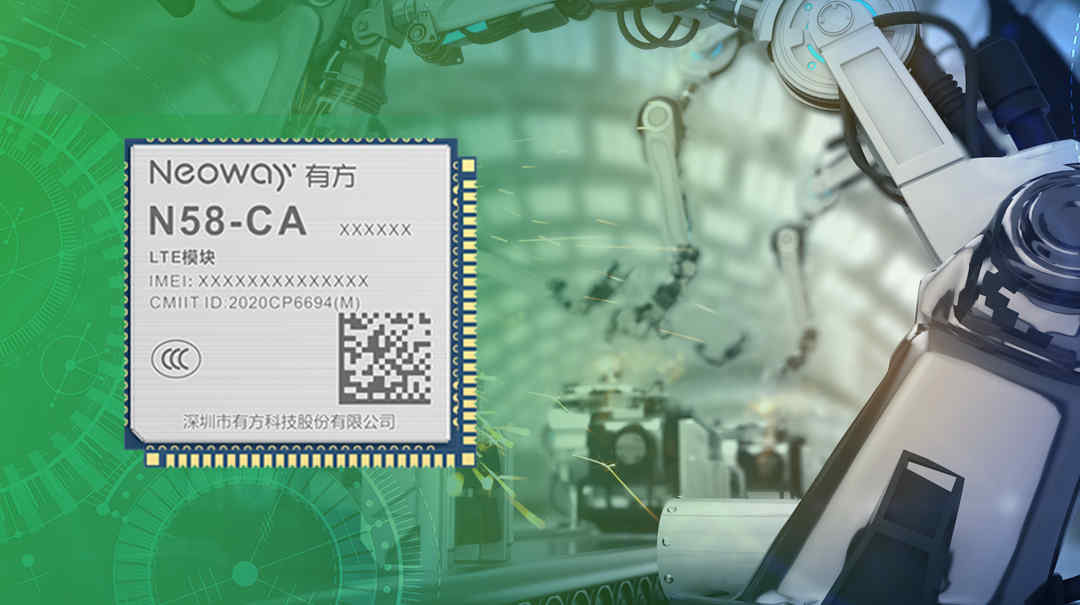 N58 has been commercially used in industries, such as IoV, battery charging and exchange, PoC, payment terminal, energy metering, and sharing. At the same time, it has been also commercially used in Europe, Latin America, India, Southeast Asia, and other countries and regions. In addition, for some terminals with high requirements on size, Neoway has also developed a small-size Cat.1 module N716, which provides strong support for intelligent upgrades and customization in personal positioning, vehicle positioning, smart wearable, and other industries.