Neoway 4G Empowers Smart EV Charging Infrastructure, Contributing to Green and Seamless Travel Experience
As the new energy vehicle market witnesses an unprecedented surge in production and sales, the charging station industry concurrently ushers in unprecedented development. According to the China Charging Alliance, the charging stations increased by 1.718 million units from January to July of this year, which included a rise of 413,000 units in public charging stations and 1.305 million units in private charging stations. As of July 2023, the total number of charging stations across China has reached 6.928 million units, marking a YoY increase of 74.1%. Meanwhile, the sales of new energy vehicles have amounted to 4.526 million units, thereby sustaining the rapid growth of both charging stations and new energy vehicles.
The availability of reliable charging infrastructure is vital for green travel and significantly contributes to the growth of the new energy vehicle industry. It also supports the development of new power systems and contributes to the realization of dual carbon targets. To alleviate the 'last-mile anxiety' associated with new energy vehicles, the provision of ample charging stations is particularly crucial.
Neoway Technology has accurately assessed the development trends in the new energy market and successively launched a series of products. These offerings provide wireless communication solutions and services to clients in the new energy sector, thereby facilitating the digital and intelligent advancement of the industry. Neoway Technology's LTE Cat.4 modules (N720, N75, N720V5) and LTE Cat.1 modules (N58, N706, N716) have been successfully integrated into charging station projects with clients such as Teld, Carenergynet, and CGS. In addition, Neoway's LTE modules have been incorporated into various car models from automakers like SAIC, BYD, BAIC, Geely, and Dongfeng, providing stable, reliable, and secure access communication for EV charging.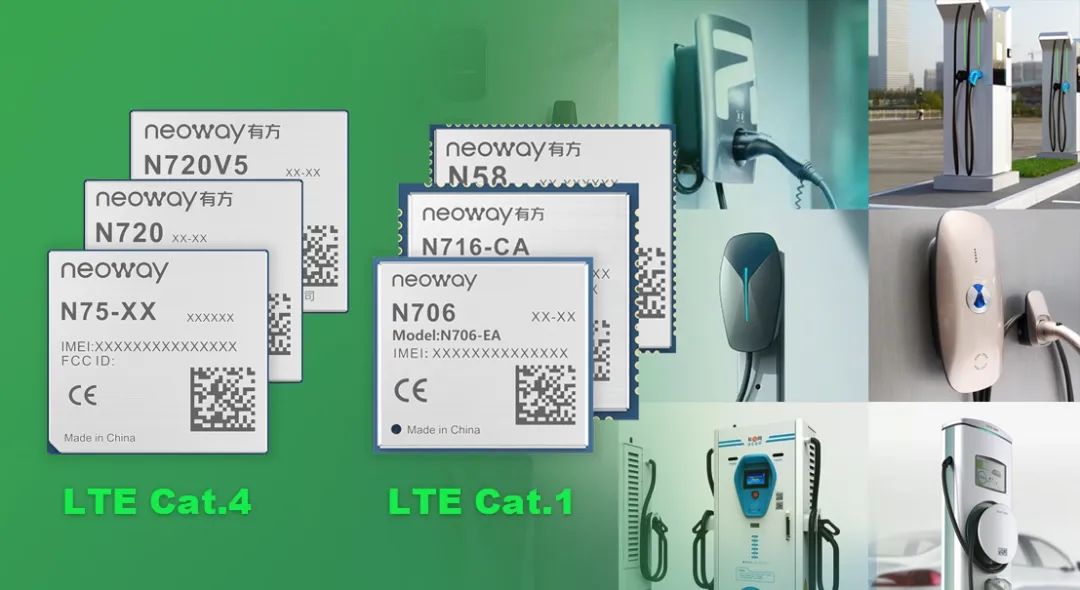 Neoway IoT modules not only ensure seamless connectivity but also offer real-time remote monitoring of vehicle charging states and charging fault warnings. This heightens user convenience and safety and enables remote valley charging to save on electricity costs.
Apart from excelling in the charging station market, Neoway Technology has amassed substantial commercial experience in new energy vehicle premarket and aftermarket. Neoway modules have been large-scale shipped in products such as T-BOX, smart vehicle boxes, DVRs, and trackers, ensuring reliable and secure communication.
Neoway Technology has maintained a leading position in China's electric power IoT for 14 consecutive years. With the growth of the new energy industry chain, Neoway will continue to collaborate with upstream and downstream partners. Backed by professional technical levels and R&D capabilities, we are committed to promoting industry development, thereby making human life more environmentally friendly, efficient, and convenient.