Neoway Technology's New NB-IoT+BLE Module Launches: Empowering Efficient, Energy-Saving IoT Applications
In recent years, with the growing demand for reduced power consumption in IoT applications, the adoption of low-energy Bluetooth (BLE) has accelerated in the IoT sector. BLE, known for its energy efficiency, cost-effectiveness, and ease-of-use, serves as an effective complement to NB-IoT. It enables low-energy, short-range, high-speed, and secure transmission, playing a vital role in an increasing number of IoT applications such as metering and firefighting.
In the application process of NB-IoT+BLE modules, they support coexistence of NB-IoT and BLE, support bidirectional wake-up, and show significant advantages in power consumption compared to classic Bluetooth. In broadcast mode, the 10-second cycle power consumption is within 20uA, and sleep power consumption can be as low as 1.5uA, making it suitable for scenarios where Bluetooth is always on, especially for battery-powered IoT terminals. Furthermore, the 'NB-IoT+BLE' design allows end-users to communicate with devices via smartphone Bluetooth for terminal configuration or software upgrades, making it easy to read device data and operate terminal devices.
Neoway Technology has launched the N306-CN, a refined iteration of the NB-IoT module N306. Utilizing a new generation of NB-IoT chips, this ultra-small packaged NB-IoT + BLE 5.0 industrial-grade wireless communication module offers high integration, performance, security, and low power consumption. It provides a superior choice for mature NB-IoT applications in smart gas, smart water, smart firefighting, smart agriculture, and smart cities.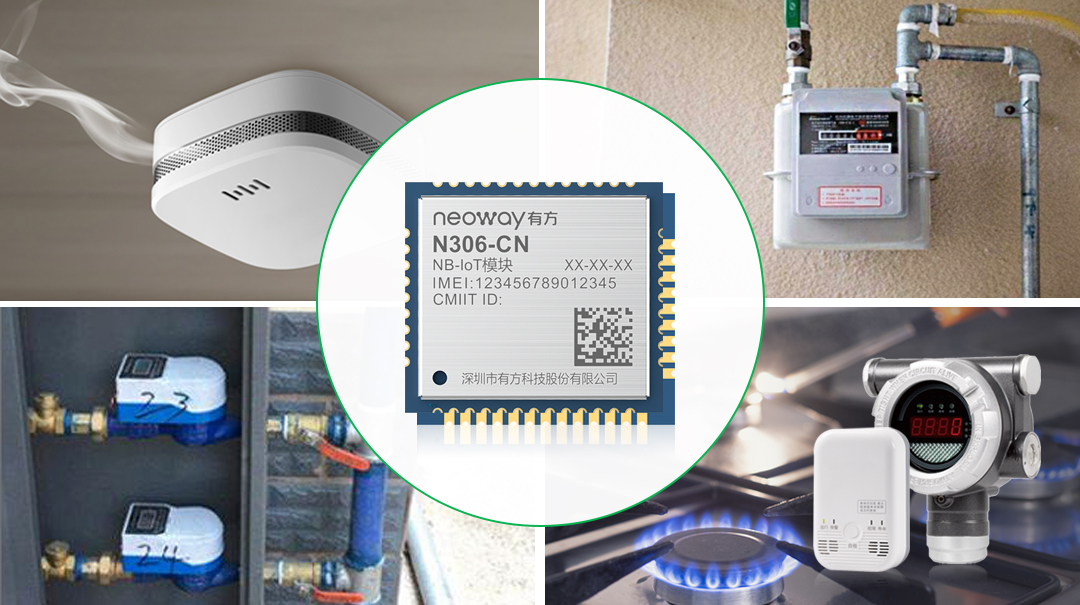 Ultra-Small Size: Adopting an advanced integrated security module design, with a 44-Pin LCC package, measuring only 17.7 mm x 15.8 mm x 2.4 mm, effectively helping customers reduce product size and cost.

High Expandability: With optional configurations of NB-IoT + BLE, supporting 3GPP Rel13 & Rel14 for NB-IoT, and 5.0 for BLE, the device can meet remote and near-field communication needs while maintaining low power consumption for prolonged working periods, minimizing the need for charging or battery replacement.

Ultra-Low Power Consumption: BLE's low-power broadcast mode allows NB-IoT to enter PSM, while still promptly responding to BLE external data, ensuring BLE is always available.

Ultra-Wide Voltage: 2.2 V to 4.5 V, Typ.: 3.6 V, supporting various types of batteries.
Neoway Technology's N306-CN module, which combines NB-IoT and BLE, features high integration, high security and low power consumption. These advantages will undoubtedly unlock new possibilities in various industrial applications, aid in reducing the development costs for IoT solutions, and offer more stable, reliable, and secure connectivity services.