European Utility Week 2018: Neoway Technology Showcased Its Strength in Energy Metering
Recently, the European Utility Week 2018 opened in Vienna, Austria. As a leading provider of Industrial IoT communications products and services in China, Neoway showcased a series of products at the exhibition, including its flagship 2G, 3G, 4G, NB-IoT products and solutions that already form leading competitive advantage in energy industry.
At this exhibition, well-known European water/ electricity/ gas/ heat meter manufacturers came to visit the stand of Neoway technology and share opinions about the technology trend of metering industry. After gaining the knowledge about Neoway's excellent performance in the China's AMI market, most visitors expressed their willingness to seek cooperation. As Neoway's International Sales Director observed, international customers of AMI markets still have a great demand of 2G cellular modules and solutions. With various application scenarios, however, NB-IoT will soon come to the center. NB-IoT modules and solutions, represented by Neoway N21, will provide solid support for customers to seize the market opportunities.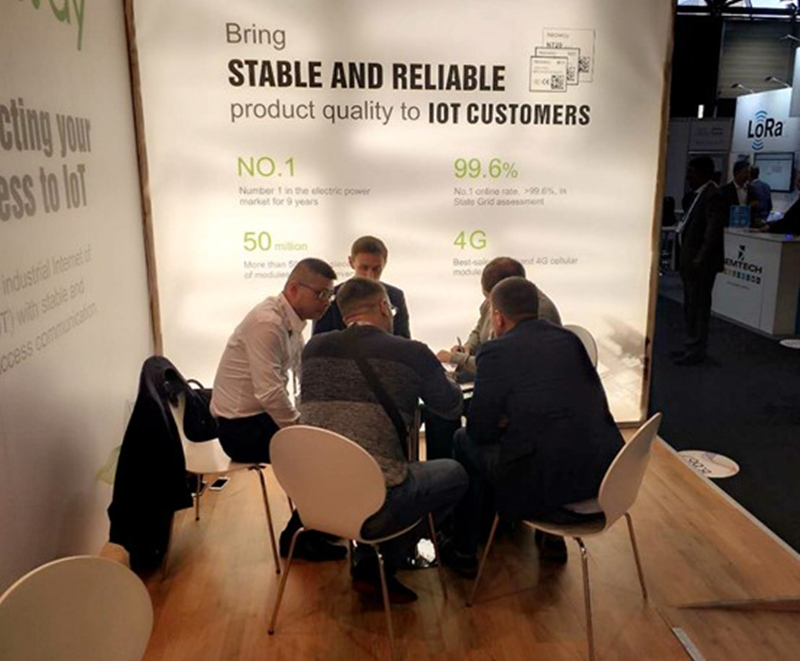 Pursuing Excellence, Leading Trend
At present, nearly 20 million pieces of Neoway modules are running on live networks simultaneously. Neoway has been No.1 for 8 years with regard cellular communications in Chinese electricity market and is the absolutely leading supplier. According to Neoway's Director of Energy Market Mr. Jiao, Neoway could make a breakthrough in energy market that is full of competitors because it focuses on business and keeps improving products and services, and also because it keeps pursuing high quality.
Neoway plays a pioneer role in the wireless communications field of energy metering and shows strong leadership in setting industry rules and innovativeness in developing new business models. In 2009, State Grid Corporation of China (SGCC) began to transform massive traditional electricity meters into smart meters. Neoway was the earliest participant among wireless IoT communication manufacturers in China and launched world's first single-chip data-only cellular modules. In 2012 and 2013, Neoway respectively participated in the development of communications standards for SGCC and China Southern Grid. Neoway contributed to both applicable 376.1/376.3 protocol and 698 protocol to be released. In 2014, Neoway developed China's first 4G module that supports 7 network modes of all three Chinese tier-1 carriers and was the first cellular module manufacturer that provided OpenLinux platform for smart three-phase meters. Rooted in energy metering, Neoway continues to lead its technology trend.
Neoway has been engaged in IoT communication for 10 years, and has a deep understanding as well as rich practices in this domain. As a key part to connect things and Internet, Neoway has long-term accumulation both in "cloud" and "terminal" and is acknowledged by worldwide customers due to its quick response and remarkable problem solving capabilities.
Neoway is well-known for the high stability and reliability of its products and solutions. This depends on its strict quality awareness and control system. "Neoway cultivates a quality culture of doing things right the first time and zero-defects. We think that quality is the comprehensive performance of all staff instead of some department's or someone's responsibility." Mr. Jiao said. Neoway has a professional team and complete quality control system to manage the quality of entire product lifecycle, from demands identification, design and development, test, production to after-sales service. Each step is performed with strict quality assurance to ensure that every piece of module is qualified when it is delivered.
Outside of China, Another Competition Arena
Now Neoway has entered more than 20 countries across Asia, Europe, and North America. Its products and solutions are widely used in the US, Russia, India, and Western European countries. Mr. Ouyang, Director of International Sales Dept., said, "Neoway aims to be an international company with business across the globe. We will continue to advance our global resource distribution so that worldwide customers can enjoy Neoway's value."
As "Made in China" is changing to "Intelligently Made in China" and a number of aspiring Chinese brands are going outside, Neoway is facing an unprecedented opportunity. As one of the first Chinese providers that exports IIoT communications products and services to countries and regions outside of China, Neoway is ready for the competition in global market.
About European Utility Week
European Utility Week is held annually and has been held for 20 sessions. It is one of the most innovative conference and exhibition in smart energy field, covering electricity, water, heat and gas and involving smart metering, smart grids, data management, smart homes, AMR & AMI, Communications & IT, and energy retail. Each year professionals from energy sectors, energy equipment providers, operators, and institutions all over 100 countries worldwide attend international summit forums, professional products exhibitions, visits of successful projects, Round Tables, etc.