Neoway Technology Marched In German for the Embedded World 2020
The Embedded World 2020 opened in Nuremberg, Germany, on February 25th (local time). As the world's largest embedded exhibition, it brings together more than one thousand exhibitors from the world to showcase products and technologies related to hardware, tools, applications, and services.
After the marvelous display last year, Neoway Technology continued to be present this year, displaying the launched Internet of Things (IoT) communication products and solutions at Booth135 in the 3rd hall. Meanwhile, many new IoT wireless communication products were unveiled at the exhibition.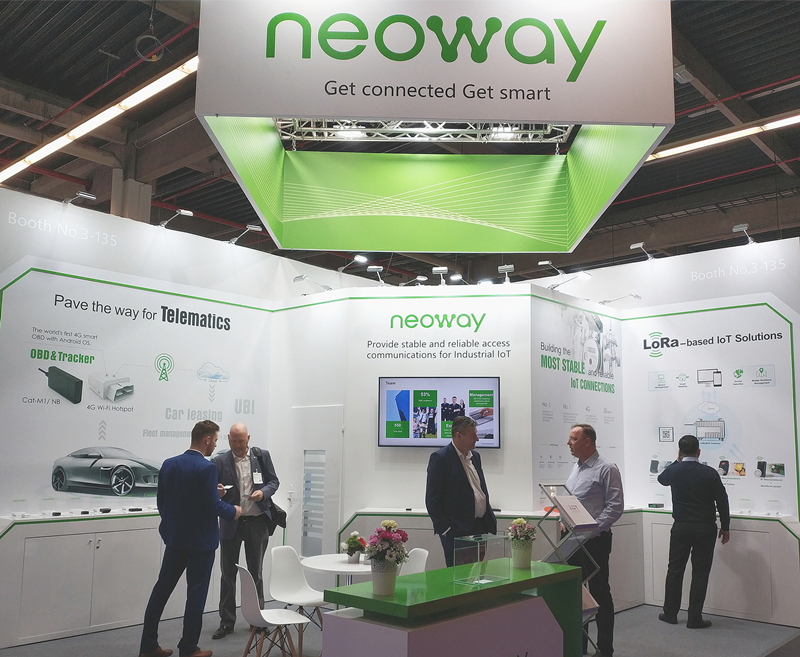 More choices: wireless communication modules
Based on a deep understanding of the communication demands in different IoT applications, Neoway provides customers with more cost-effective products and services to win customer satisfaction through products and technological innovation.
Neoway's star product, the 4G module N720, has a small size, embeds rich network protocols, and supports OpenLinux development. N51, the world's leading 3G module, is compatible with the 2G network and cost-effective, helps customers to achieve network upgrade successfully. The NB-IoT module, N21, has the smallest size in the industry, is data-only and low-power-consumption, supports the European network bands...
These cellular modules have been widely used in smart grid, charging stations, IoV, smart gas, smart water, industrial monitoring, and other industries.
At this exhibition, Neoway also showcased some new cellular modules.
N27 that supports Cat-NB2, Cat-M1 and 2G network
This module supports the global frequency bands, can help customers in different regions of the world to operate their products on global networks, and it is suitable for intelligent meter reading, vehicle tracking, environmental monitoring, and other applications.
It supports the global bands, has passed the most rigorous North American PTCRB and AT&T certifications. Developing smart, connected products based on N75-NA will help customers shorten their certification cycle and save hundreds of thousands of dollars in development and certification.
N58 is introduced in the LCC package. It is compatible with Neoway 4G module N720 and supports LTE Cat-1 and 2G networks, helping customers upgrade services from 2G to 4G.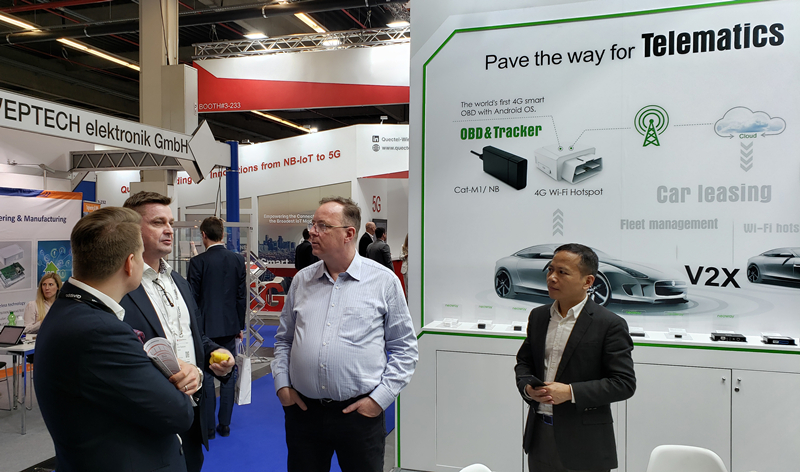 Newly deployed: wireless communication terminals
As the IoV develops in recent years, the market for IoV communications products has expanded rapidly, and Neoway has developed and launched various models of wireless communication OBDII terminals. The star products N2870 and N2610 support Android OS and Linux OS and provide rich interfaces. With stable and reliable performance, Neoway's OBD products have passed the AT&T certification and have been shipped massively to the high-end IoT market in North America and Europe.
At Embedded World 2020, Neoway also showcased new wireless communication terminal products.
T101, a low-power asset tracker, supports Cat-M, Cat-NB and GPRS networks, and can be used in asset tracking, logistics, and transportation industries.

T201, vehicle tracker, embeds battery, supports Cat-M, Cat-NB and GPRS networks, can be used for driving behavior analysis and is suitable for vehicle tracking, car insurance, fleet management and other scenarios.

M10, the latest product, combines traditional dashcam and tracking terminal functions, can upload videos by connecting to the cloud platform, and allow business o

perations conveniently and fast by connecting to the APP.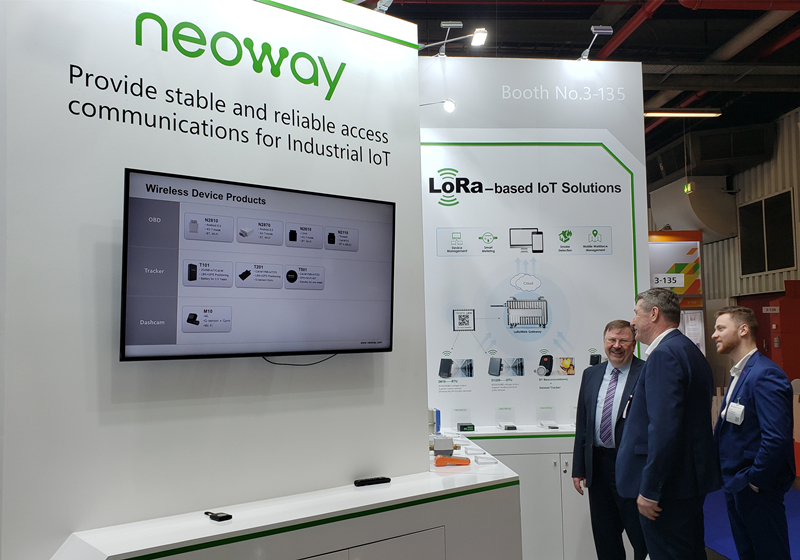 Felix, vice president of Neoway Technology, said: "Neoway has been listed on the SSE STAR market successfully in January this year. In the future, we will increase the investment in market expansion and R&D. The global layout will accelerate. We will develop a more local professional team to serve international customers better."
With 14-year experience in the IoT wireless communications, Neoway Technology has an advanced insight into the development of wireless communications technologies. In an era of intelligence growing fast in every industry, it is a common demand to operate and maintain business with less manpower and lower cost. Neoway Technology sets up the "cloud-pipeline-terminal" chain and provides customers with higher-quality and more cost-effective products and services. Neoway will help shorten the development cycle, reduce development and operation costs, and adapt to rapidly changing market demands. Neoway Technology will continue to deeply cultivate the field of IoT communications, achieve win-win with customers and partners, and create the unlimited possibilities of IoT applications and values.