Accelerate the International Certification: Neoway N75-NA Module Passed the Certification of T-Mobile
After passing the FCC, PTCRB and AT&T certification, Neoway N75 –NA module have recently passed the certification of T-Mobile in North American, which paved the way for customers' products to enter the North American market.
T-Mobile completed merger with sprint in April this year, which became one of the biggest mobile communication operators in North American. Its business covered North America, Eastern Europe, Southeast Asia and many other regions, where its market share was as high as 31%. Neoway N75-NA not only passed the T-Mobile test of RF, protocol, security, etc., and got T-moblie certification, but also passed the Sprint's test of key performance. It passed two test systems respectively, which fully verified its reliability and stability.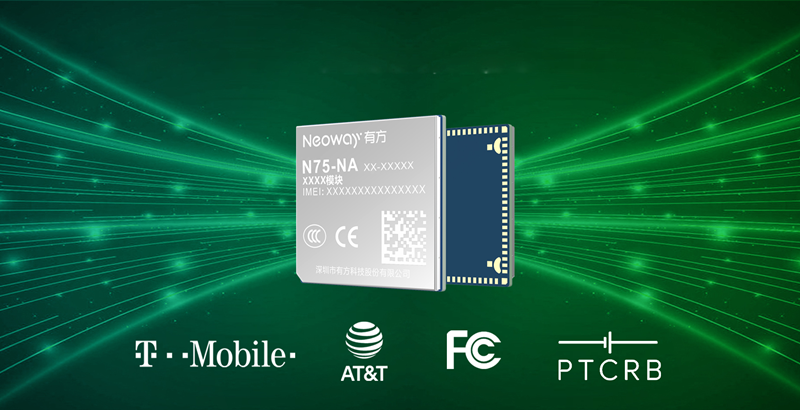 N75-NA with T-Mobile certification can help terminal customers to shorten 3 months in product development and certification, save tens to hundreds of thousands of dollars in certification, effectively improve product development efficiency and accelerate time-to-market.
Neoway N75-NA based on Qualcomm platform is an LTE Cat.4 industry-level module.
LGApackage

Compatible with Neoway 3G/4G modules

Support LTE/WCDMA/GSM networks

Date rate: 50Mbps ~150Mbps

Support GNSS with multiple satellite positioning function

Able to hang Codec/Wi-Fi/BT

Support OpenLinux development
N75-NA can operate stably in harsh environments from -40℃ to 85℃, which is suitable for these industries that require long life cycle and good reliability such as energy metering, vehicle monitoring, security, device management, Industrial router, etc.
"PTCRB, AT&T and T-Mobile are all heavyweight certifications, which require rigorous testing and a long cycle, but we tried to get these certifications as quickly as possible. We passed these certifications, which not only proved the technical strength and product quality of Neoway technology, but also provided more reliable guarantee for the commercial use of customers' products in the world". Said Bond, a performance test leader in Neoway Technology.