Neoway's Global Expansion of Modules N75-NA Module Certified by AT&T and T-Mobile USA
Neoway's LTE Cat.4 module, N75-NA, recently received certification approval from North America operators, AT&T and T-Mobile, enabling Neoway to serve the market.
The certifications of AT&T and T-Mobile are considered to be some of the most complex of operator certifications. Both have very strict enterprise certification standards that are very comprehensive, ensuring reliable performance and network interoperability. The testing includes laboratory testing, field testing and reliability testing. Modules approved by AT&T and T-Mobile must meet the highest RF performance standards and requiring special consideration from Engineering teams. Neoway's N75-NA module passed AT&T and T-Mobile testing of RF, protocol, and security as well as interoperability and performance requirements on their networks.
N75-NA module with AT&T and T-Mobile certifications will allow device vendors to shorten their certification timelines by up to 3 months while also significantly improves product development efficiency and accelerating time-to-market. In obtaining N75-NA Module certifications Neoway demonstrated its strong technical ability and focus on product quality while also offering Neoway customers with a highly reliable product for world-wide customers.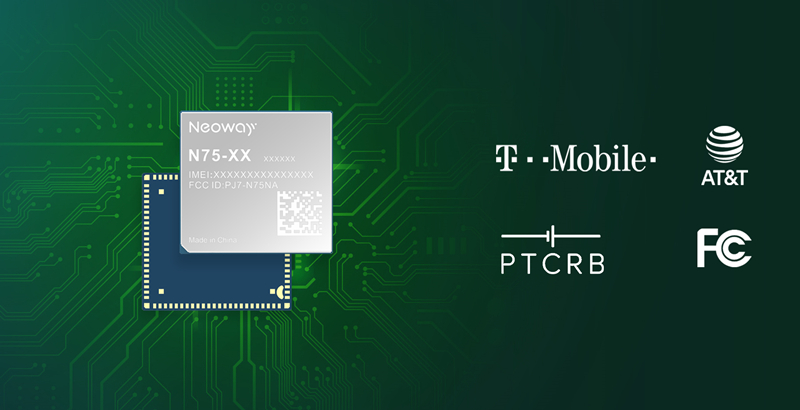 N75-NA is an LTE Cat.4 module based on the Qualcomm MDM9X07 platform and applicable to North America, Europe, and Latin America. The module is packaged in LGA and is compatible with Neoway 4G and 3G series modules. It operates on LTE, WCDMA, and GSM networks with a maximum downlink rate of 150 Mbps and GNSS location services. With various peripheral interfaces, N75-NA can mount CODEC, Wi-Fi, and BT components and support OpenLinux development. The module is capable of operating in harsh environments with its ultra-wide operating temperature range from -40°C to 85°C. It is ideal for industrial applications that require a long-lifecycle and high reliability, such as energy metering, in-vehicle monitoring, security & surveillance, equipment management, and industrial routing.
In the future, Neoway will continue to accelerate the expansion of international markets to provide customers with stable and reliable cellular communications products and to contribute to the convergence and rapid development of the global Internet of Things.