Neoway N27-W3 Passed GCF Certification, Accelerating its Commercialization in Global Market
Recently, Neoway Cat.M1 module named N27-W3 has passed a series of tests and been certified by Global Certification Forum (GCF). This is another heavyweight certificated awarded to N27 series modules after FCC and PTCRB, which accelerates commercialization of the N27-W3 product in the global market.
GCF certification is the basic certification requirement of major European operators. Once a product is awarded the GCF certificate, it means that over 10 famous member organizations in the world, such as 3GPP, ETSI, GSMA, 5GAA, and CTIA, have recognized the product. Therefore, so the GCF certificate is a heavyweight and authoritative certificate.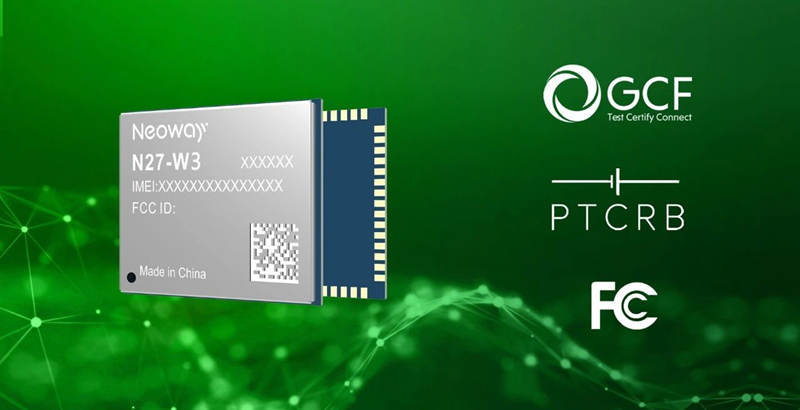 Neoway N27-W3 has passed a series of tests, including the RF test, protocol consistency test, audio test, SIM card test, OTA test, and field test. Its stable and reliable performance has been well verified. Using N27-W3 to develop IoT terminal products can help customers save tens of thousands of dollars in certification, and shortens the development cycle by 3-4 months. This provides strong technical support for customers' terminal products to quickly enter the market.
N27-W3 is equipped with the Qualcomm 9205 platform and supports both the Cat.M1 and EGPRS modules.

N27-W3 adopts LGA packaging and thus features a compact size, which saves the development space for customers' products.

N27-W3 supports OpenCPU, which saves resources for different customers' upper-layer application development.

N27-W3 supports Windows 7/8/8.1/10, Linux, and Android operating systems, which facilitates development.

N27-W3 supports positioning systems in different regions, including GPS, Glonass, Beidou, Galileo, and QZSS.

N27-W3 supports the VoLTE functions, diversified interfaces, and global frequency bands, and features ultra-low power consumption and powerful performance.

N27-W3 is of the industrial-grade quality, and can operate in harsh environments with a temperature ranging from -40oC to 85oC.
About GCF
Founded in 1999, GCF is one of the world's most authoritative terminal industry certification organizations in the cellular network field. GCF uses terminal conformance testing methods developed and published by international standards organizations such as 3GPP, and entrusts third-party laboratories to conduct independent terminal product certification to ensure that the functions and performance of commercial products meet industry requirements and standard specifications. If a product is awarded with the GCF certificate, it means that the product has received recognition from all GCF operator members. Therefore, the GCF certificate is extremely authoritative.