Neoway's N58 Becomes the First Cat.1 Module Commercially Deployed in OBDs
Intelligent Connected Vehicle (ICV) and Car on Internet are no longer new concepts. However, the large central control screen, application services, voice interaction, and other functions in vehicles are mostly reduced to decorations. Most users still choose to use their mobile phones in vehicles to operate personalized applications.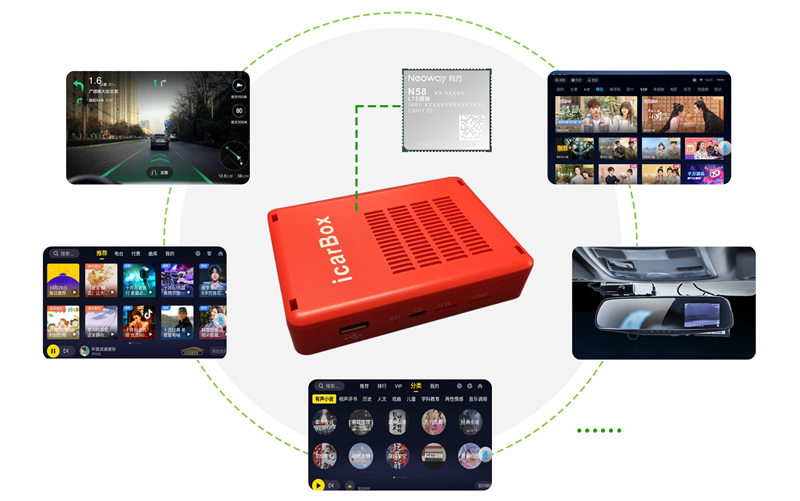 To address these pain points of pseudo-intelligence users, Shenzhen RegLink Technology Co., Ltd. (hereinafter referred to as RegLink) has launched a software and hardware integrated on-board device (OBD), which is a plug-and-play product. This OBD supports 4G, Wi-Fi, and Bluetooth wireless communication, and implements functions such as AR navigation, fleet intercom, and multimedia online playback (online radio/music/video). It can also be connected to external devices such as the dashcam and tire pressure monitoring equipment. This OBD makes up for the disadvantages of the original in-vehicle interconnection system, solves the problem of slow or impossible iteration of vehicle hardware, and provides users with an intelligent travel option that features lower costs and better experience.
For moving vehicles, stable and reliable wireless communication is the key to delivering the smooth experience of networked applications. As the industry's leading provider of IoV terminal products and solutions, RegLink gained in-depth insight into user requirements and industry pain points, and launched an OBD equipped with N58 supplied by Neoway Technology to promote automobile networking and intelligence. Hence, N58 becomes the first Cat.1 wireless communication model that has been successfully put into commercial use in the OBD market. It will significantly promote popularization and large-scale application of the Cat.1 wireless communication module to achieve automobile intelligence and networking.
The OBD equipped with N58 can provide stable, reliable, and high-quality services for many personal or corporate users, such as car owners, fleet managers, 4S shops, and car rental agencies.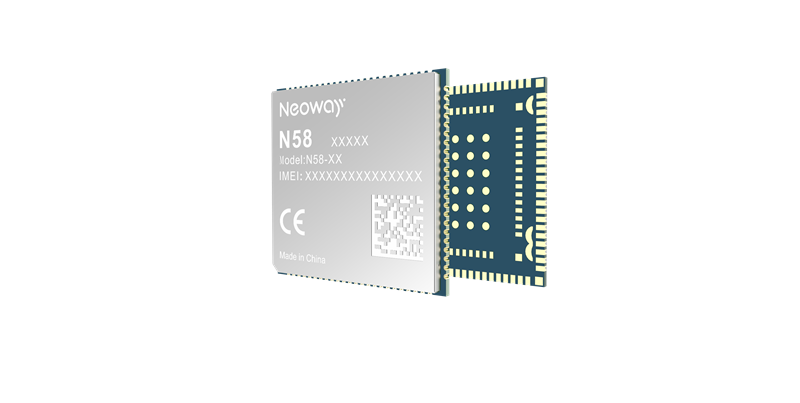 As a Cat.1 module, N58 has obvious cost advantages over Cat.4 products. It saves more costs for customers and helps enhance the market competitiveness of terminal products.

N58 runs on the LTE network that has the widest global coverage, supports an uplink rate of 5 Mbps, a downlink rate of 10 Mbps, and mainstream bands in key areas. It is the optimum communication solution for medium-rate mobile IoT terminals, and provides stable and reliable communication services for global business expansion of customers.

N58 supports near field communication such as Bluetooth and Wi-Fi scan and is suitable for OTA maintenance and upgrade of IoT terminals that are inconvenient to disassemble.

N58 supports the GPS, GLONASS, and BDS positioning systems and can provide accurate location information.

N58 is one of the first blockchain security modules in the industry and supports SM algorithms to ensure safe and reliable data transmission.
As the world's first wireless communication product developed based on the Cat.1 bis platform, N58 has been developed, marketed, and shipped in bulk far ahead of other Cat.1 modules. It has been shipped in bulk and widely applied to the following fields: mobile payment, public network intercom, shared industry, and location tracking. In October this year, N58 was successfully deployed on the in-vehicle T-BOX of Chery JETOUR, and became the industry's first Cat.1 module in the in-vehicle pre-installed market.
With continuous diversification and fragmentation of IoT applications, 30% of medium-rate services on industry applications will gradually adopt Cat.1 as the first choice for wireless communication. Through early planning and deep engagement in the Cat.1 field, Neoway Technology has not only launched the flagship product N58, but also developed the industry's smallest Cat.1 module N716. Neoway Technology will continue to provide customers with more communication products that feature low power consumption, wide-coverage, and diversified applications, retain its stable and reliable differentiated advantages, focus on customer pain points, and enhance customer values.