N27 Certified by Deutsche Telekom, Accelerating Commercial Use of Cat.M/NB-IoT/EGPRS Module in Countries Outside China
Following FCC, PTCRB, and GCF, N27 supplied by Neoway Technology has recently been certified by the tier-1 operator Deutsche Telekom, which accelerates the entry of Neoway's Cat.M/NB-IoT/EGPRS multi-mode modules into the German and European markets. With the N27 module, customers can significantly reduce the development cycle and certification costs, and shorten the time to market.
After the International Telecommunication Union (ITU) officially recognized NB-IoT as a 5G Standard, the global network construction and commercial use of NB-IoT will soon heat up. Highlighted by advantages such as wide coverage, low power consumption, large connections, and low cost, NB-IoT can be deployed in application scenarios that are demanding in terminal power consumption, less sensitive to real-time performance of data transmission, and features high density of terminal deployment, for example, smart meter reading, smart fire protection, smart street lights, and smart home appliances.
The Cat.M network is also rapidly deployed and commercialized in many countries in Europe and North America. The Cat.M network can well meet the mobility and real-time requirements while supporting voice services. It is a good upgrade and substitute for 2G networks and is suitable for scenarios, such as vehicle tracking management, asset management, logistics, and transportation, shared travel, energy metering, and wearable products.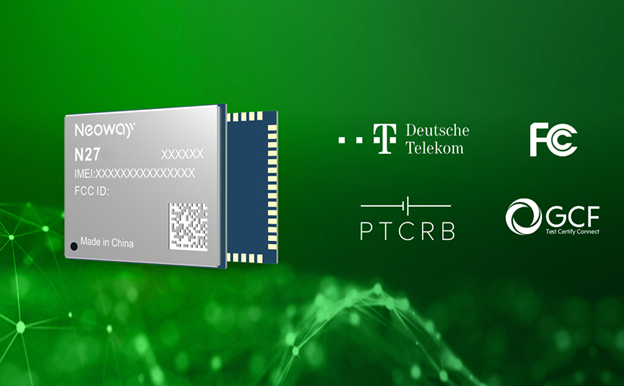 N27 is a narrowband IoT communication module developed by Neoway Technology for markets outside China.
N27 is built on the Qualcomm 9205 platform and supports the Cat.M1/NB-IoT/EGPRS multi-mode operation.

Its compact size and low power consumption can effectively save space and reduce costs for customers.

N27 supports open development and diversified protocols, and can meet application requirements of different customers in diversified industries and scenarios.

N27 integrates the GPS, BDS, GLONASS, Galileo, and QZSS positioning systems.

N27 supports the USB serial drivers of Windows 7/8/8.1/10, Linux, and Android, and therefore is easy to use.
The N27 series products developed by Neoway Technology support a wide range of band and deliver reliable performance. They can meet the application requirements of different regions and industries in the world. After N27 is certified by FCC, PTCRB, GCF, and T-Mobile, more certification plans are in progress to provide better support and services to more IoT terminal customers with international needs. Neoway Technology is constantly enriching its NB-IoT product series to further improve product performance and create more value for IoT customers in the NB-IoT 2.0 era.