Innovation Leads Neoway Providing Cat.1 Modules to Win Orders from Top 10 Customers of Location Trackers
The importance of asset management is self-evident for both individuals and collectives, but managing assets usually takes a considerable amount of time. Without efficient management tools, precision and efficiency cannot meet the expectations of managers. Location trackers can provide better management services for asset security, serving from movables such as vehicles and goods to small items such as pets and tool boxes.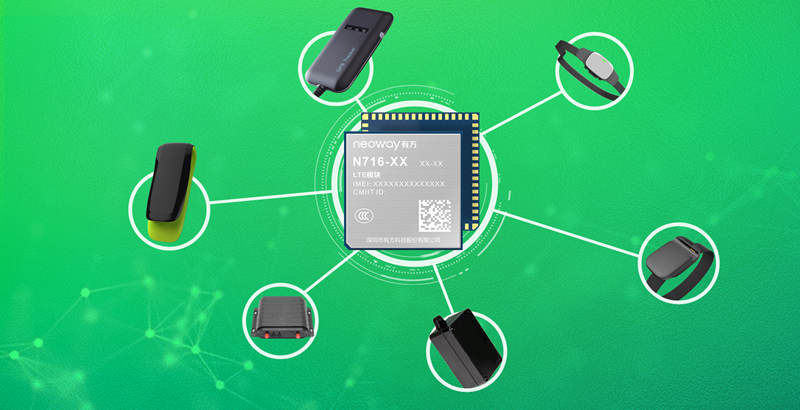 Location trackers can be used in a variety of application scenarios, such as vehicle tracking, valuables tracking, cold chain transportation, personnel positioning, special group (elderly or children) positioning, and pet positioning. All these application scenarios have high requirements for the quality of wireless communications, but do not require high speeds due to small amount of data. Considering various location tracker application requirements and the background of 2G/3G withdrawal, Cat.1 is the most suitable wireless communications option.
Cat.1 runs on the world's most widely distributed 4G networks, and is stable and reliable.

Although NB-IoT is also suitable for application scenarios with medium and low speeds and small amount of data, its mobility is poor, and it is not suitable for high-speed mobile positioning and tracking scenarios such as vehicles and goods.

In the global trend of 2G/3G withdrawal, the location tracker industry urgently needs alternative products of communications upgrades. The medium and low speed Cat.1 is close to 2G and 3G, and the Cat.1 cost is lower than that of Cat.4 products. Therefore, Cat.1 is very suitable for communications iteration.
Neoway Technology's Cat.1 series products are developed based on the UNISOC platform. N58 is the world's first Cat.1 bis communications module and compatible with 2G and 4G standards, making N58 the first choice for communications upgrades for many customers. N58 has been sold to dozens of countries and regions around the world and has been used by 300+ customers.
Another Cat.1 star product, N716, is the industry's smallest Cat.1 product. N716 is very suitable for student cards, positioning hand rings, smart car locks, and other IoT terminal products that have high requirements for dimensions. N716 modules have been listed as key selection products by top 10 customers in the location tracker industry and have been commercially used in a large scale.

N716 is developed based on the UNISOC 8910DM chip platform, and the quality and supply can be guaranteed.

N716 dimensions are only 19.6 mm × 19.6 mm × 2.45 mm, and N716 is highly integrated.

N716 supports OpenCPU, making development by customers be more efficient and convenient, and further reducing the design solution cost.

N716 supports Bluetooth near-field communication, Wi-Fi positioning, embedded high-precision positioning algorithms, and a variety of options to meet various needs.
Neoway Technology continues the advantages of early development, early go-to-market, and early commercialization of Cat.1 products. Its forward-looking layout and rich application experience provide many customers with choices for stable and reliable communications products. Neoway Technology continues to enrich its product family and extend its lead to improve the connectivity efficiency of IoT terminals.