Leading the Charge: Empowering the Future of Digital Transformation Through Reliable IoT Connectivity
On September 20, 2023, the 20th International Internet of Things Exhibition in Shenzhen (hereinafter referred to as "IoT expo") commenced at the Shenzhen World Exhibition and Convention Center (Baoan New Hall). As one of the largest and most comprehensive IoT expo in China, it is a complete showcase of the comprehensive solutions and successful practices of the entire IoT industry chain, covering the IoT sensing layer, network transmission layer, computing and platform layer, and application layer. The event serves as a benchmark for the development of China's IoT industry.
Neoway Technology continues to be deeply involved in the innovative development of the Internet of Things industry, earning recognition for its achievements. The company was honored with the title of "Top 100 IoT Companies in China for 2022". In addition, it received "IOTE Gold Award" for its cloud product -- Neoway Guanzhi. At this exhibition, Neoway Technology showcased a range of "cloud-pipe-device" integrated communication products and solutions designed for intelligent product manufacturing, smart cities, and vehicular networks, thereby serving as a cornerstone for digital transformation and social governance.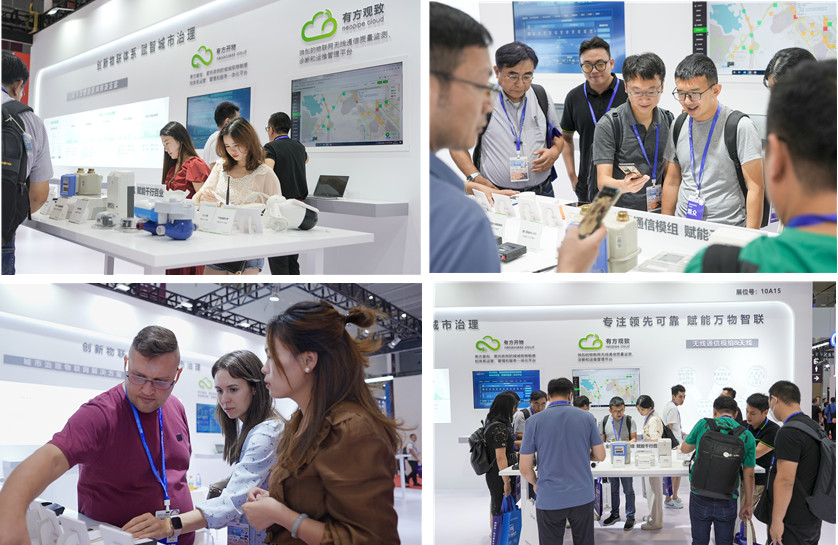 Committed to Global Leadership in Reliable Connectivity for All Things
The company's extensive range of offerings, from wireless communication modules to antennas, data traffic, and pipeline cloud services, are designed to empower a variety of smart devices. In every communication technology iteration from 2G, 3G, 4G to 5G, Neoway Technology is deeply involved and serves as a pioneer in product and technology innovation, consistently offering leading and reliable access communication for the Internet of Things. At the exhibition, the company introduced three new module products: 5G RedCap Module N512A, Dual-Mode Walkie-Talkie Module N730, and LTE Cat.1 Positioning Module N706-CB. These modules are targeted at specific industry applications and aim to contribute to the intelligent upgrading of industrial applications.
5G RedCap Module N512A
N512A series modules are based on the new generation 5G chipset platform, RedCap, fully meeting the communication and networking needs at different stages of 5G development. They can be applied in areas such as 5G industrial routers, industrial gateways, smart power terminals, smart homes, and video surveillance, accelerating the transition from LTE Cat.4 terminals to 5G.
Dual-Mode Walkie-Talkie Module N730
N730 is a dual-mode intercom module that supports both LTE Cat.1 public networks and analog walkie-talkies, providing cellular network coverage in areas without public network access. It can be widely applied in various settings such as logistics fleets, port transportation, taxis, railway stations, airports, and construction sites.
LTE Cat.1 Positioning Module N706-CB
The LTE Cat.1 positioning module N706-CB is an iterative upgrade of last year's N706. Not only does it continue to maintain the industry's smallest dimensions at 15.8x17.7 mm, but it also reduces power consumption by 15% compared to the previous generation of Cat.1 products. Furthermore, it extends GNSS functionality across the entire product line and supports dual GNSS + WiFi positioning, providing more comprehensive and reliable support for customers with location-based needs. The all-new generation N706-CB module can be reliably implemented in cloud speakers, alarms, two-wheelers, charging stations, BMS, and shared devices, thereby facilitating the intelligent upgrade of customer products.
In addition to the newly released products, Neoway Technology's Wi-Fi HaLow module LW510, launched in July this year, has also garnered considerable industry attention. The LW510 module is currently the smallest Wi-Fi HaLow low-power module in the industry, capable of effectively connecting IoT devices up to a kilometer away. It offers coverage that is dozens of times greater than traditional Wi-Fi, and features low power consumption, long-range, high connectivity (a single AP can connect to over 8000 terminals), easy networking, and enhanced security. The module can provide stable and reliable connectivity for end devices in scenarios such as smart metering, access control systems, industrial IoT, smart agriculture, smart retail, and smart homes, thereby serving as an effective complement to cellular IoT.
Neoway Technology's proprietary IoT wireless communication quality monitoring, diagnostic, and operational management platform — Neoway Guanzhi — can collect and monitor real-time network metrics such as signal quality and interference in the network where IoT devices are located. The platform also possesses remote communication fault diagnosis and alert capabilities. It allows for multi-network analysis and optimization, enhancing network connection reliability and ensuring uninterrupted real-time business operations. In conjunction with Neoway's wireless communication modules, significant value is added for IoT service providers and intelligent interconnected product manufacturers by improving IoT communication quality and reducing operational costs.
In the photovoltaic inverter monitoring scenario, actively pushing of the equipment fault localization information leads to a reduction in troubleshooting time and labor costs, potentially reducing maintenance costs by 30-50%.

In the residential IPC monitoring scenario, the utilization of GIS-based geospatial grid visualization technology allows for precise optimal network recommendations and alerts for faulty equipment, leading to an increase in fault localization efficiency of over 80%.

In the realm of urban public safety management, the Neoway Guanzhi platform can accurately visualize the locations of sensing devices, enable correlated equipment network monitoring and alerts, and conduct multidimensional comprehensive assessments of regional networks, thereby enhancing the online rate of monitoring devices and minimizing loss of life and property.

In the two-wheeler BMS monitoring scenario, the system offers real-time monitoring and intuitive display of network status. It provides visual tracking and retrospective analysis of business performance at key points along the battery's route. This enables the tracking of battery paths, assisting clients in quickly recovering the batteries.
Leading Domestic Upgrades, Empowering Intelligent Vehicle Connectivity
Neoway Technology has been involved in the field of Vehicle-to-Everything (V2X) for many years, providing global Original Equipment Manufacturers (OEMs), Tier 1, and TSP customers with V2X terminals, modules, and accompanying technical services.
For the automotive premarket, several domestically produced LTE Cat.1 and LTE Cat.4 modules have been the first to achieve commercial use. Notably, the industry's first LTE Cat.1 module, N58, has been innovatively applied to automotive pre-installed T-BOX terminals and the accompanying charging stations. It has successfully been commercialized in multiple car models from various brands, including Chery Jetour, Chery QQ Ice Cream, BYD Tengshi, SAIC MARVEL R, and Isuzu.
In the first half of this year, Neoway's domestically produced LTE Cat.4 module, N725, took the lead in achieving large-scale commercial use in various models such as Chery Jetour and Chery Ant series, leading and promoting the widespread and large-scaled application of the LTE Cat.4 domestic modules in automotive networking and intelligence. At the current exhibition, Neoway Technology introduced the new generation of domestically produced LTE Cat.4 automotive-grade modules, N725A. Based on its predecessor, N725, N725A has undergone iterative upgrades and is developed on the ASR1806 domestic platform. It meets automotive-grade standards, ensuring more stable and reliable communication. Simultaneously, it has passed relevant European eCall tests and features upgraded high-capacity memory to meet the needs of larger-scale applications, further leading the way in the domestic upgrade of automotive key components.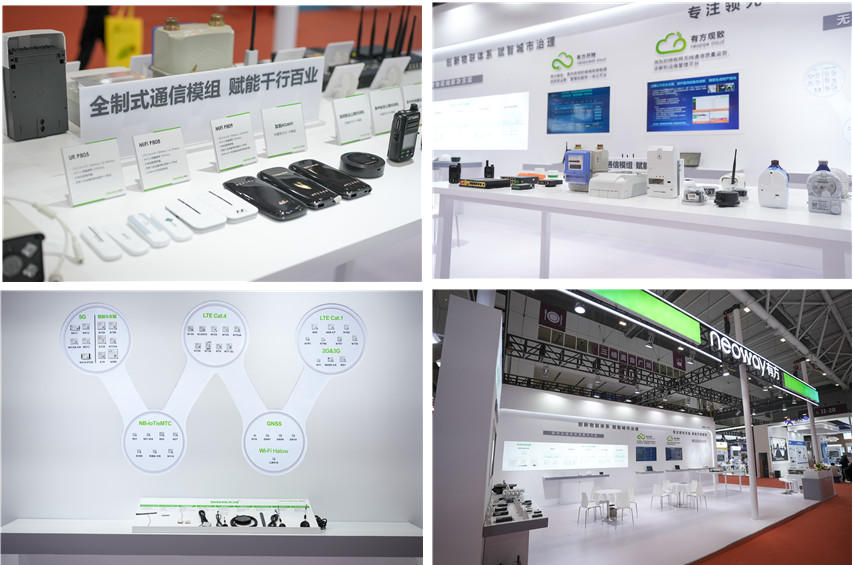 Innovative IoT Ecosystem, Empowering Smart City Governance
In recent years, Neoway Technology has actively responded to the national mandate to accelerate new infrastructure development, focusing on IoT-based urban governance as a critical business direction. The company has introduced a "1+N" solution approach: "1" refers to a single smart city IoT management service platform, "Neoway Kaiwu", while "N" represents tailored IoT solutions for various scenarios. These solutions primarily cover two major areas: urban public safety governance (including gas safety monitoring, hazardous building and slope monitoring, urban flooding warnings, fire surveillance, and bridge health monitoring) and ecological environment management. Currently, Neoway Technology's "1+N" solution and model have been market-tested and integrated into various urban governance scenarios in cities such as Changsha, Chengdu, Shenzhen, Wuhan, and Chongqing, thereby demonstrating significant positive effects in advancing the construction of new smart cities.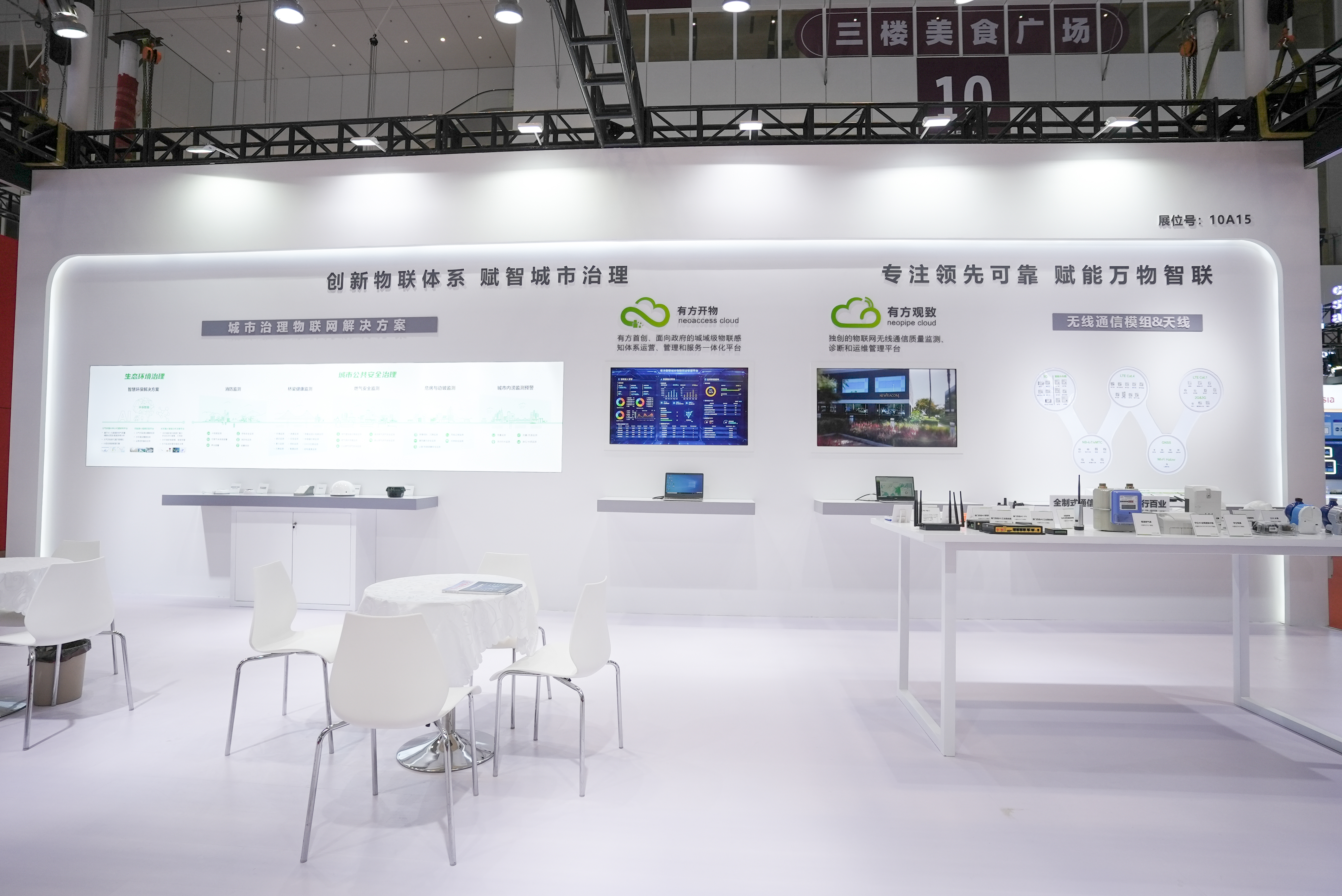 Neoway Technology has been a leader in IoT connectivity with its integrated "Cloud-pipe-device" solutions, providing services of over a hundred million IoT devices across more than 40 countries or regions, garnering customer satisfaction. In the future, Neoway will continue to uphold its mission of "To provide globally leading and reliable IoT connectivity, thereby facilitating a more environmentally friendly, efficient, and convenient life for humanity." It aims to deepen its technological prowess, sustain innovation, and accelerate humanity's transition into the digital age.