Neoway Technology Debuts at MWC Las Vegas 2023: Co-Creating a New World of Internet of Everything
On September 26th in Las Vegas, the 2023 Mobile World Congress (MWC Las Vegas, hereinafter referred to as MWC) took place at Las Vegas Convention Center, USA. As the largest and most influential mobile communications event in North America, MWC aims to spearhead global innovations global innovations by showcasing cutting-edge technologies and disseminating industry-leading insights.
Neoway Technology once again participated in MWC, armed with globally leading and reliable IoT communication access solutions. The company has achieved remarkable penetration in the international IoT market, providing leading and reliable communication products and ODM services across a multitude of domains like smart energy, connected vehicles, smart cities, industrial IoT, and financial payments. Active in over 40 countries and regions, Neoway has deployed connectivity solutions for over a hundred million IoT devices. Key industries within the Americas—ranging from smart metering to asset tracking in logistics—are especially benefiting from the company's reliable IoT communication products and ODM services.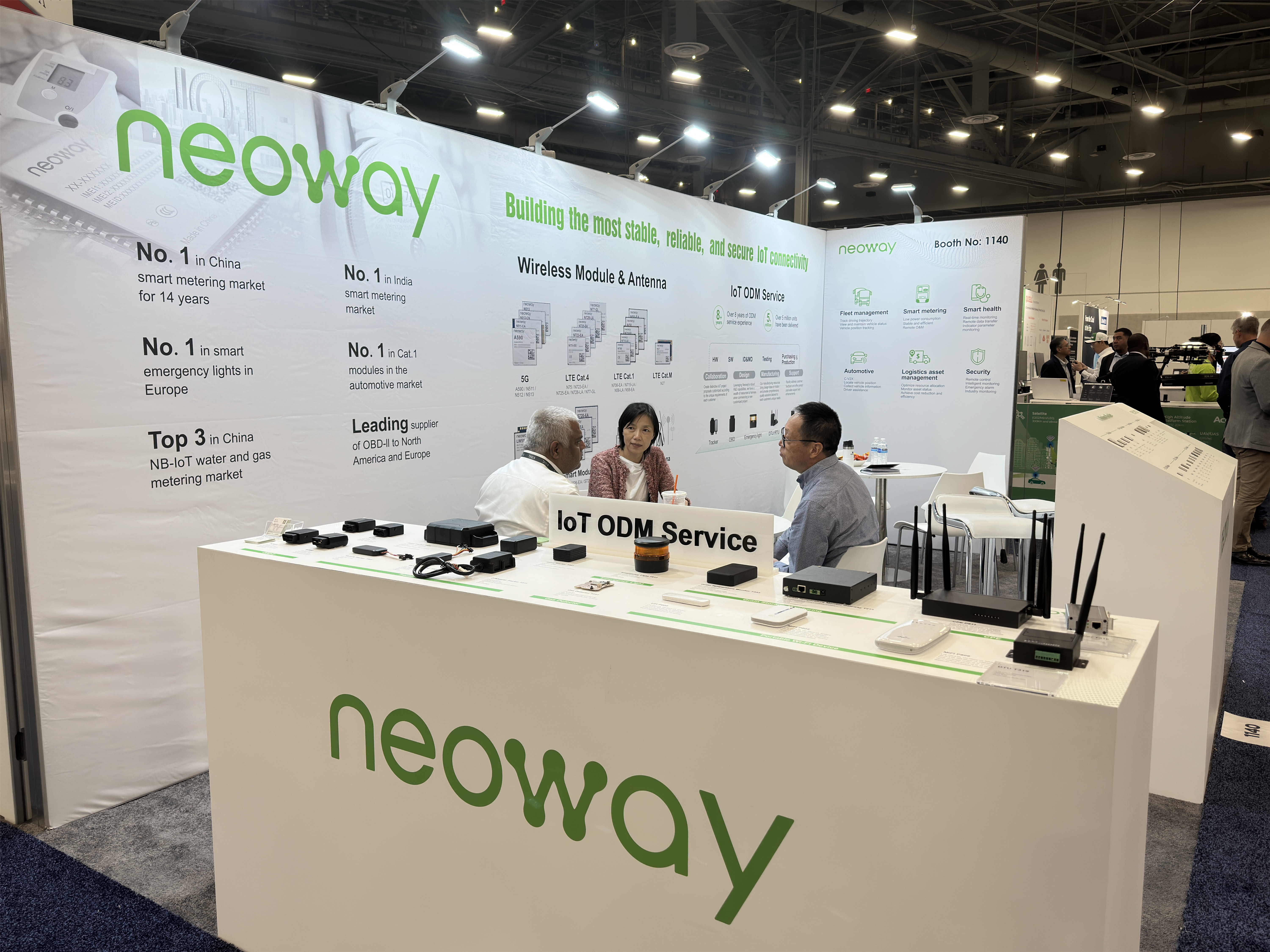 Focusing on Leadership and Reliability: Empowering Universal Intelligent Connectivity
Neoway Technology's various wireless communication modules have provided leading and reliable access communication for IoT terminal device applications in North America and globally for several years. The company's LTE Cat.4 module N75, primarily targeting the North American market, has received multiple certifications including FCC, PTCRB, GCF, IC, CE, ICASA, ANATEL, AT&T, and T-Mobile. It is capable of providing products and services to customers in North American countries and regions. Its Cat.M/NB-IoT/EGPRS tri-mode module product N27 also has been certified by multiple agencies, including AT&T, GCF, PTCRB, Deutsche, Telekom, IC, CE, FCC, Telstra, and JATE/TELEC. It is equipped to offer products and services to countries and regions, including the Americas and Europe. Neoway Technology's series of products tailored for the North American market can accelerate the certification process for client end-products, ensuring rapid market entry while optimizing efficiency and cost. These products are currently widely deployed in markets such as smart metering, logistics tracking, fleet management, and industrial IoT.
A highlight of Neoway Technology's presence at MWC 2023 was the unveiling of the Wi-Fi HaLow module LW510. Specifically tailored for the American market, this module has garnered considerable customer interest. The LW510 module is currently the smallest Wi-Fi HaLow module in the industry, meeting the unique requirements of various applications such as smart metering, access control systems, industrial IoT, smart agriculture, smart retail, and smart homes. It can effectively connect IoT devices located up to a kilometer away, offering extended coverage that is several times greater than that of traditional Wi-Fi. The module also features low power consumption, long-range connectivity, high-capacity connections (a single access point can connect to over 8,000 terminals), easy network configuration, and enhanced security, making it a valuable supplement to cellular IoT.
Neoway Technology has also made significant strides in the power IoT segment, with over 40 million units operating in China's power grid and maintaining a stable online rate of over 99.6%. The company has sustained the leading market share in China's smart grid for 14 consecutive years, as well as leading the market share in India's power IoT. Presently, Neoway Technology's wireless communication module products have penetrated markets in Southeast Asia, the Middle East, Europe, and Latin America, providing reliable connectivity services to customers in many more nations and regions.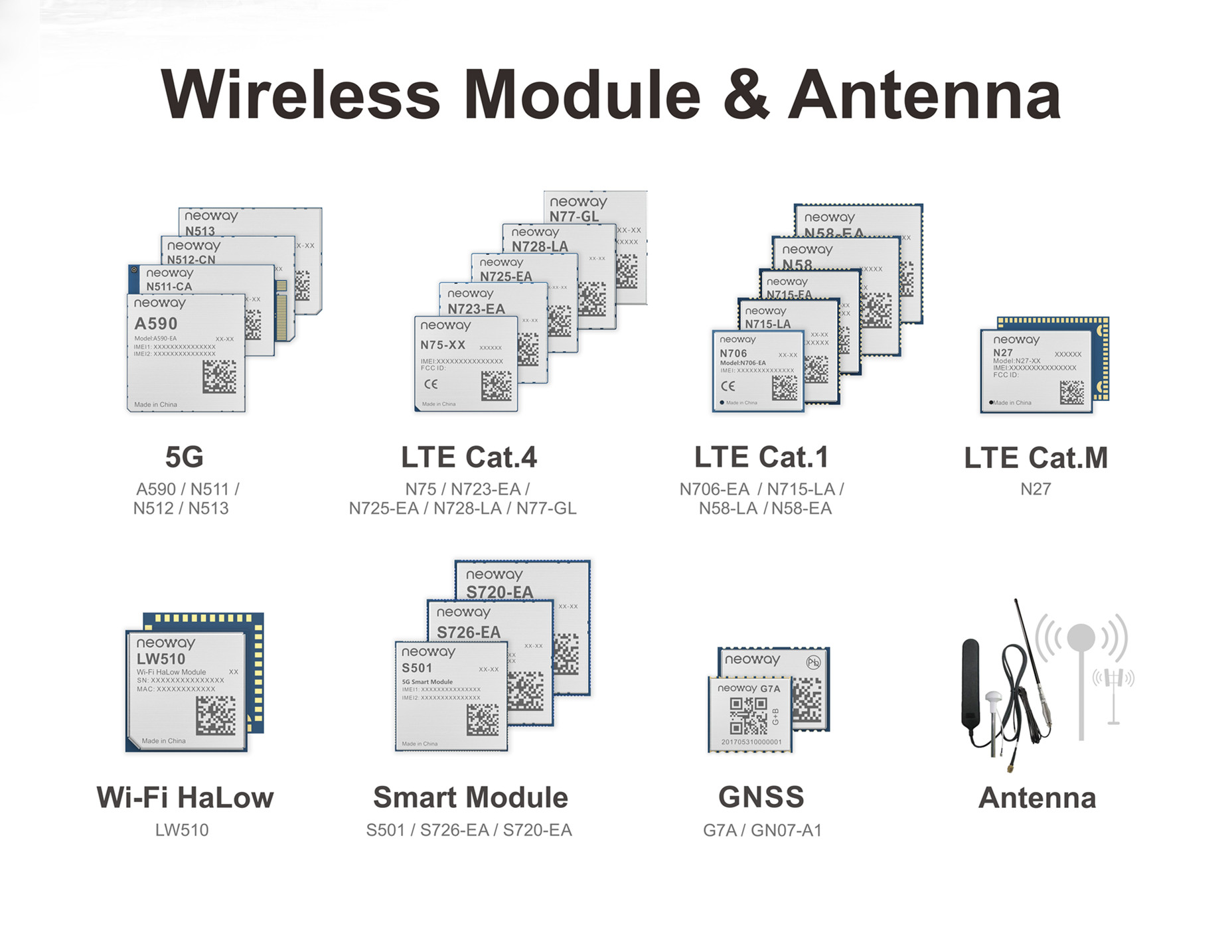 Expert ODM Capabilities, Rich ODM Experience: Delivering Optimal ODM Services for Clients
Beyond offering just modules, Neoway Technology provides end-to-end ODM services to meet diverse industry requirements. Catering to the specific industry requirements, the company provide end-to-end ODM services that include software and hardware development, industrial and structural design, testing and certification, as well as procurement and production. Tailored product and solution development can be conducted according to each customer's terminal product requirements. Leveraging robust R&D and extensive supply chain resources, Neoway can deliver comprehensive and high-quality ODM services. Specialized project development teams can be assembled to rapidly respond to customer needs, offering timely, attentive, and professional services for the customization of exclusive IoT terminal products and solutions.
With over eight years of experience in providing ODM services for terminal products, Neoway Technology has supplied over 5 million ODM products globally. The product categories encompass OBD-II, Dashcam, Tracker, emergency vehicle lights, location tags, RTU/DTU, smart access control, MBB, as well as various types of PCBA solutions. As an ODM service provider, Neoway Technology has supplied a series of connected car terminals such as OBD-II, Dashcam, and Tracker, along with complementary services, to top-tier Tier 1, TSP, and telecommunications operators in North America. These products have passed stringent certifications from North American operators and automobile manufacturers and have been introduced to globally renowned car brands such as Audi, Nissan, Chrysler, and Skoda.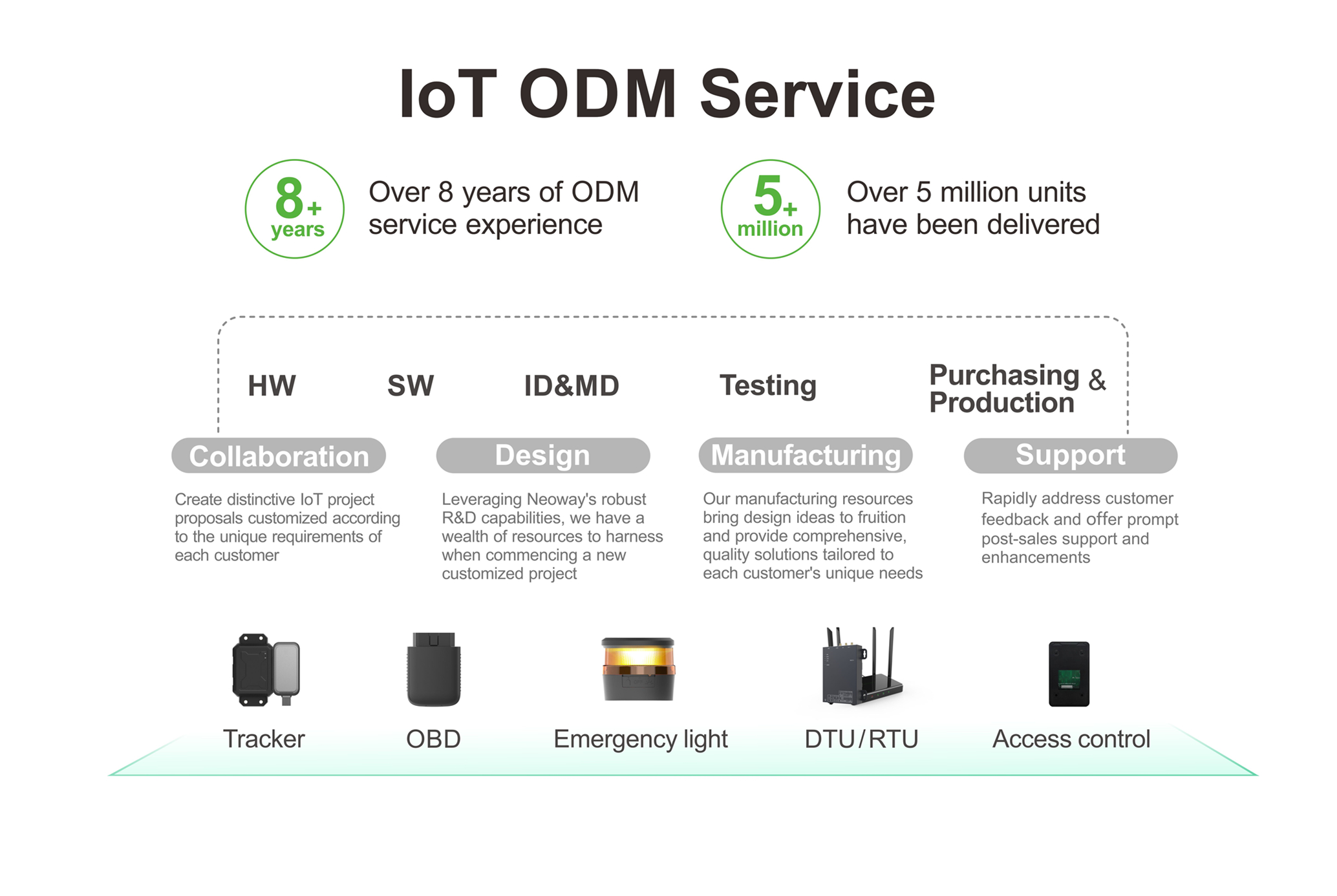 According to GSMA forecasts, the global IoT device market, including both cellular and non-cellular, is expected to reach approximately 24.6 billion units by the year 2025. With 17 years of focus in IoT wireless communication, as well as leading and reliable product and technological advantages, Neoway Technology will continue to provide trustworthy products and services to global IoT clients, contributing to the accelerated construction of a more environmentally friendly, efficient, and convenient interconnected world.